Thank You from the School of Leadership Studies
Featured
Share online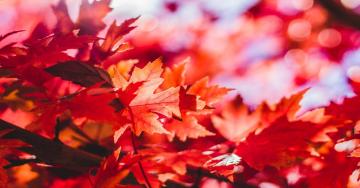 Photo Credit: Photo by Jeremy Thomas on Unsplash

Cultivating Gratitude, Hope, and Happiness
I'm learning that happiness is an emotion
That's a result of circumstances. Joy, though, is
a spiritual engagement with the world based on
Gratitude. It's not the big things that make me
 grateful and bring me joy. It's more the glory of
the small: a touch, a smile, a kind word spoken
or received, that first morning hug, the sound
of friends talking in our home, the quiet that
surrounds prayer, the smell of sacred medicines
burning, sunlight on my face, the sound of birds
and walking mindfully, each footfall planted
humbly on the earth.
~Richard Wagamese, from his 2016 book: Embers, p. 140
We in the School of Leadership Studies would like to express our sincere appreciation to:
Health leaders across this country who are continuing to serve during these extraordinary times. We know you are exhausted and the decisions you make are critical in an increasingly complex and challenging health care system. Thank you.

SLS students and alumni, putting their leadership learning into practice and endeavouring to foster positive change in your spheres of influence. Thank you.

The 70+ Associate Faculty who contribute to this School through teaching and capstone project or thesis supervision. You have shown tremendous flexibility, adaptability as we've pivoted together several times throughout this pandemic, and you've continued to extend compassion and care to leadership learners. Thank you.
At a more personal level, we know that gratitude is linked to hope and happiness. We would like to express our individual gratitude for:
Cheryl:
I am filled with gratitude and love for all of the students, faculty, staff, family, and friends that I have met along this journey of life. You have shaped and reshaped my ways of being, doing, and knowing in the world, and I am deeply grateful. Thank you for all that you are.

I am grateful to my wee one, Eli and the many ways they remind me to be imaginative, curious, and present from one moment to the next.
Kathy:
​​I am profoundly grateful and give deep thanks for all the amazing beings in my life, both personally and professionally; for being able to work in a university that is committed to making a positive difference in the world, and actively seeks to create a culture where values are lived, such as care, creativity, and courage; and to be able to wander this beautiful earth, and in particular to live, work, learn and play on the traditional lands the Xwsepsum (Esquimalt) and Lkwungen (Songhees) families. I send good wishes of health and wellbeing to all.
Lisa:
I am thankful for my colleagues within our School and across the University that seem to "know" when to lift someone's spirits. Seeing this daily exchange of collegiality is the essence of our CARING value at RRU.

I am grateful to the students and alumni who every day share inspiration, care and concern for their fellow humans, fellow living beings, and our planet.

I appreciate our global partners in the Global Leadership program - especially in India and Ecuador.  I am thankful, grateful and inspired to learn from them and expand our collaborations.
Michelle:
I am grateful to work and learn with and from both staff and students that cannot be stopped - even by a Pandemic!!

I am thankful for the continued good health of myself and my loved ones.
Niels
I am thankful to my colleagues in the school for our collaborative relationship of mutual help and support. Thank you!

I wake up every day grateful for another day of life here as an immigrant to the beautiful ancestral lands of the Xwsepsum (Esquimalt) and Lkwungen (Songhees) families, here in what is now known as Victoria.

I am grateful for each opportunity to work with wonderful faculty to support students as they create a meaningful capstone project or thesis based on the engagement of stakeholders in an organizational action-oriented change project. My students' extraordinary learning experiences create amazing learning for me, too!

I am grateful to be living in our current time of multiple pressing intersectional needs - a time when what I do in my daily life makes a difference in matters of social justice, equity, decolonization, diversity, inclusion, & the environment, at the levels of individual and collective well-being.
Sherry
I am grateful for the health and happiness of my family and friends, the camaraderie of colleagues, the beautiful Lekwungen lands on which I live and the restorative power of nature. "And into the forest I go, to lose my mind and find my soul" John Muir
Tam:
I am grateful for my health and that of my family and friends.

I am blessed to reside on the ancestral lands of the Blackfoot Confederacy, the Kainai, Piikani, as well as the Siksika, Tsuu T'ina and Stoney Nakoda First Nations. I am grateful for the Knowledge Keepers and Elders who came before me, and who are still with us today. I have much to learn.

I am grateful for my colleagues and the students at the School of Leadership who are so deeply committed to transforming our world for the better.
Catherine:
The honour of having such meaningful, relational work in these difficult times

The

lək̓ʷəŋən families and ancestors

for their stewardship of the lands I am now grateful to call my home
The gardeners at miq

ən (Beacon Hill Park) for supporting my serenity as I've taken regular walks through the garden during the pandemic

My friends and family, especially my nephew, who brings me such joy as he learns and grows

Meusa the cat who keeps us company and makes us laugh with her shenanigans
Wanda:
I remain in deep gratitude for countless blessings.

The fact that I am here.

The beautiful lands I traverse.

A loving family; children, and friends, I will eat turkey with.

And as my colleagues, I remain also dedicated to courage, caring, and creativity, endeavoring to truth and reconciliation, and making the world a better place through the spaces I can and the inclusion of voice.  And also share

"A thanksgiving message from seven amazing Native Americans"
Wendy:
I am thankful for the full richness of life and all it might create.  This poem speaks to lessons learned from my experiences and all the people I have and will encounter.
 
Be thankful that you don't already have everything you desire.
If you did, what would there be to look forward to?
Be thankful when you don't know something
For it gives you the opportunity to learn.
Be thankful for the difficult times.
During those times you grow.
Be thankful for your limitations
Because they give you opportunities for improvement.
Be thankful for each new challenge
Because it will build your strength and character.
Be thankful for your mistakes
They will teach you valuable lessons.
Be thankful when you're tired and weary
Because it means you've made a difference.
It is easy to be thankful for the good things.
A life of rich fulfillment comes to those who are
also thankful for the setbacks.
GRATITUDE can turn a negative into a positive.
Find a way to be thankful for your troubles
and they can become your blessings.
Author Unknown
***
Note: We acknowledge that the holiday of Thanksgiving is increasingly under scrutiny due to its association with colonization–especially in the American telling of events between the Wampanoag People and the Pilgrims in Plymouth and in Canada's history as well. We acknowledge that the act of expressing gratitude at this time of year long predates European contact and offer this blog in that spirit.