Dismantling Systemic Racism and Acknowledging White Fragility
Featured
Share online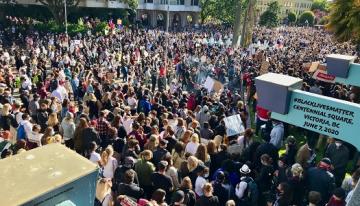 Core to the work of 21st century leaders
Recent world events have brought the issue of systemic racism into the foreground. There is a long way to go to dismantle systemic oppression against Black, Indigenous, and other People of Colour (BIPOC). George Floyd's murder in Minneapolis, caught on video, together with the recent murders of Breonna Taylor, and Ahmaud Arbury, among others, ignited a resurgence of the #BlackLivesMatter protests in over 850 cities in the US, and Canada, including Victoria, BC (pictured). President Trump's refusal to condemn white supremacy in the September 29, 2020 US Presidential debate highlights how an issue that was non-partisan and limited to extremists just a few years ago has now moved to the political centre in the US.
In Canada, racism and the ongoing impact of colonialism shows up in the lack of awareness about court-determined Indigenous rights and title. This was evident in the use of the RCMP as a security force for commercial interests on the lands of the Wet'su'wetan people in northern BC in January and February. It was also present when Joyce Echaquan, an Atikamekw woman, died surrounded by hospital staff spouting humiliating, racist comments.
All of these situations, together with ongoing dialogue in the School of Leadership Studies and across RRU, have triggered much reflection and action on the on-going impact of colonialism and white supremacy. The call for understanding and respect is about creating a movement of solidarity to remove systemic oppressions in all sectors of society.
Acknowledging white fragility
When the topic is racism, interactions can quickly seem like an uncomfortable threat to personal identity. Robin DiAngelo uses the term "white fragility," to describe the discomfort and unwillingness of white people to accept or engage on the topic of systemic discriminations. DiAngelo believes this discomfort is a result of socialization defining racism as deliberate actions taken by bad people. Since most people know they are not bad, they do not believe they could possibly be racist; they therefore do not believe they need to do anything differently. This evasiveness protects the status quo, when, in fact, racism is a multi-layered system that requires understanding how white people benefit from a racist society and contribute to continued oppressions. 
Addressing systemic discrimination, white supremacy, the ongoing impact of colonization and promoting diversity, reconciliation, and inclusion is a lifelong journey, involving ongoing engagement in action, individual and collective reflection, learning, and an orientation to possibility. This is core to the work of 21st Century leaders.
We would like to thank Cheryl Heykoop, Rebeccah Nelems, Mike Lickers, Guy Nasmyth, and Phil Cady for contributing ideas to this post.