Bold Organizations Mobilizing for the Climate Emergency
Featured
Share online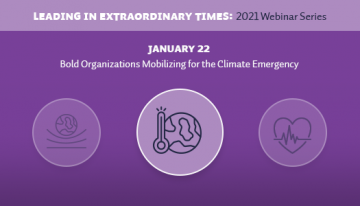 Leading in Extraordinary Times: 2021 Webinar Series
Thanks to everyone who joined us on January 22nd for the first installment of our Leading in Extraordinary Times: 2021 webinar series. In this session, author Seth Klein (A Good War: Mobilizing Canada for the Climate Emergency), Indigenous leader Jess Housty (Qqs Projects Society), global executive leader Joanna Kerr (MakeWay) and Royal Roads University President Philip Steenkamp, explored "Bold Organizations Mobilizing for the Climate Emergency."
To access the recording, click here.
Thank you as well to Carina Nilsson from Drawing Change for her beautiful graphic recording of the presentation. We are pleased to offer this image as a gift to all participants.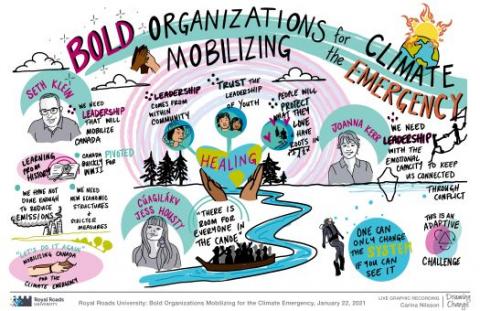 We are also pleased to share the following resources from the session for those who would like to explore further:
Also, for those who may have missed them, these resources were shared by fellow participants via the chat box…thank you for your engagement!
Stories from the Magic Canoe of Wa'xaid -- by Cecil Paul as told by Briony Penn
The Good Ancestor: A Radical Prescription for Long-Term Thinking by Roman Krznaric
A research paper in Science, November 2020
RRU Program Information
For more information on the following RRU programs, please reach out to us at learn.more@royalroads.ca.
Finally, we hope you can join us again for these upcoming important conversations!
Upcoming webinars...
Building Global Resilience: The Role of Social Purpose Organizations
Date: Friday, February 5, 2021
Time: 9:30 - 11:00 am (Pacific Time)
Speakers: Nandita Bhatt, Éliane Ubalijoro and Pablo Chamorro
Register Here
Healthcare Management in a Pandemic: Hearing Health Leaders' Voices
Date: Friday, February 19, 2021
Time: 9:30 - 11:00 am (Pacific Time)
Speakers: Join current students in the MA-Leadership Health specialization to explore key lessons learned from leading during the pandemic, as well as their ongoing experiences studying online and applying theory to practice in these most extraordinary times!
Register Here
Our webinar series is free and open to the public. These extraordinary times are calling for our leadership and participants are welcome and encouraged to share the recording link and resources with others.