Behind The Mask: Building Resilience Through Performance Art
Featured
Share online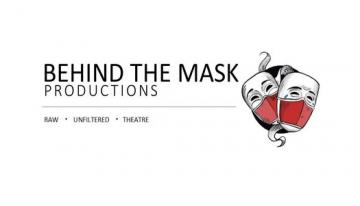 When the COVID-19 pandemic swept across the globe, our world changed dramatically, and the unknowns ignited a collective fear and anxiety. It was all so sudden, strange, and scary. Friends from around the world began reaching out to me, including those whom I hadn't spoken to years. They all had unique experiences that were only further compounded by the isolating effects of the pandemic. They all had a story. And they all felt better after sharing their story with me. In these COVID conversations, I realized there was something special happening; sharing was healing.  As the economy continued to crumble and fear heightened, it became apparent that what we truly needed to sustain us through a global pandemic was each other. The script for Behind the Mask was born from the desire to create mental health support founded in relationships, made accessible by performance art.
Raw and unfiltered theatre
The idea was to strip down theatre to the bare bones, to the raw and vulnerable, to go behind the mask. I didn't want actors or pretend; I wanted us to connect viscerally. I wanted accessibility so I included ASL translation. I wanted each person to be witnessed because there is so much power in being witnessed in our truth. In a world where we have been taught to hide parts of our identities and to not discuss mental health, performance art and storytelling are vehicles for safe self-expression, emotional processing, and building collective resilience.
The show was never about the show
Behind the Mask was never actually about the show. In fact, there were no actors nor was there a stage. There were 5 people, a backyard, and a cell phone camera livestreaming to social media. Because it was never about the show. It was about the creative process—a multi-layered process that promotes healing in the writer, the storyteller, and the audience. For some, this was their first time exploring performance art, and they felt compelled to share their story knowing it would resonate with others. Storytelling is a healing journey that empowers the participants as much as it does the audience. The raw vulnerability and courage to speak up reminds us that we are not alone, and while our bodies may be isolated, our feelings are not. 
Positioning performance art in mental health
After our inaugural performance in July, the feedback we received was phenomenal. I had messages flowing in from people I had never met, telling me their own stories from isolation, their own fears, their own triumphs. The most common response was "Thank you, I no longer feel so alone with my emotions" and "I feel so validated and seen now, through these stories." Behind the Mask had a profound impact on those who watched it, on those who performed it, and on those who contributed their stories. While building our collective resilience was the goal, even if on a small scale, the future for Behind the Mask is to continue creating raw theatre, and to position performance art in the mental health narrative.
Andrea Morgan is a graduate of the MA Leadership program. In addition to Behind the Mask Productions, she is founder of Creatical Consultancy - where creativity and critical thinking meet. Andrea provides personal and professional coaching, and organizational workshops using primarily arts-based methods to get people thinking outside the box. 
Watch Behind the Mask (runtime 45 min). 
Don't miss a show! Follow & like Behind the Mask Productions on Facebook. 
Recommended readings
Brown, B. (2018). Dare to Lead. New York: Random House.
Kavanagh, S., Novais, C., & Tite, R. (2016). Everyone's an Artist: How Creativity Gives You the Edge in Everything You Do. Toronto: HarperCollins.
Keene, K., Keating, K., Pirkko, A. (2016). The Power of Stories: Enriching Program Research and Reporting, OPRE Report #2016-32a.
Montgomery, Bruce and Gail. (2016). Brain Disruption: Radical Innovation in Business through Improv. Evergreen, CO: ExperienceYes.
Poehler, A. (2014). Yes Please. Toronto, ON: Harper Collins.