Why teach? The associate faculty side hustle
Featured
Share online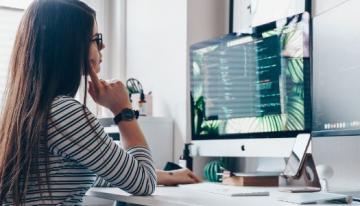 This fall I begin my third year as an Associate Faculty member teaching in the Master of Arts in Learning and Technology (MALAT) program at Royal Roads University. It's work I do outside of my regular, full-time job at BCcampus. It's my side hustle, and one I increasingly find both professional value and personal joy in doing.
What is a side hustle? In a nutshell, a side hustle is the term given these days to work you do outside of your day to day full-time job. A second job that, at its most basic level, provides some extra income. In another time, it might have been called moonlighting.
In some circles, the term side hustle has taken on a pejorative meaning as shorthand code representing all the worst qualities of the gig economy times we currently live in. But, for me, a side hustle is more than just a few extra dollars each year, and the professional benefits I (and by extension my full-time employer) derive from the 12 weeks of extra work I take on each year are immense.
I have a unique full-time job. I am an Open Education Project Manager for BCcampus. BCcampus is a non-profit organization funded by the British Columbia Ministry of Advanced Education and Skills Training. At BCcampus, I work with the entire British Columbia post-secondary system on collaborative initiatives and projects designed to improve teaching, learning, and education technology practice throughout the BC post-secondary system.
Ultimately, the work I do with both organizations, RRU and BCcampus, is driven by a desire to see students succeed. At RRU, that is at the micro-level where I get the opportunity to directly interact and support student learning in my instructor role. In my provincial role with BCcampus, my work on student success is much more systematic where the programs I design and administer are implemented on a provincial scale. Despite the differences in scale, however, common to both roles is the desire to see students succeed.
Being an instructor at RRU gives me the opportunity to live the experience of being a faculty member. The work I do teaching in MALAT gives me a deeper understanding of the day to day joys and struggles an instructor faces, which provides me a more nuanced understanding of the challenges my peers at other institutions face. By better understanding their challenges, I can design better initiatives and programs for BCcampus to support the entire post-secondary system. Alternatively, what I learn from my peers at other institutions through the work I do at BCcampus informs the teaching and learning practices I enact with learners in MALAT. My work in one role very much informs the work in another.
At BCcampus, I work closely with post-secondary faculty and students exploring ways in which Open Education Practices (OEP) can be applied to solve some of the problems facing higher education. Problems such as the increasingly high barrier students face each year when the sticker shock of paying for their textbooks or online course access codes comes due. Recently, the MALAT program at RRU has been redesigned to incorporate OEP, so having the opportunity to teach directly using the theoretical learning models I support provincially is praxis in action. Because of that praxis, I am able to gain a better understanding of the realities of what it takes to both teach and learn as an Open Educator.
Finally, much of my work at BCcampus involves understanding the appropriate use of education technology in higher education and teaching in MALAT gives me the opportunity to better understand the pedagogical affordances of education technology with learners in a classroom setting. Without teaching, my understanding of the impact of education technology is informed primarily through research, and while research is a very important lens to view education technology through, there is real value in being able to work through implementing and introducing a new technology with learners. I gain a much deeper understanding of not only what it takes to implement and support learning technologies but also get to understand the impact of the technologies as they are used within a classroom. It helps me make more informed decisions around education technology and provides me with another lens through which to evaluate the (often overhyped) claims made about the value of education technology in teaching and learning.
So, as you can see, my side hustle as an associate faculty member at RRU is about much more than extra money. Ultimately, what I get professionally from being an associate faculty member is much more valuable than a few dollars each year. My work at RRU over the past three years has become increasingly more important as a way to better inform the work I do provincially within the post-secondary system with BCcampus, and vice-versa. And, at the end of the day, I hope that the students whom I work with in both contexts have a deeper, more fulfilling learning experience because I do both.