Resilience and YOU: Episode 9
Featured
Share online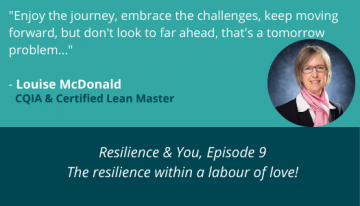 Episode 9, The Resilience within a labour of love!
This week's episode with special guest, Louise McDonald, shared some powerful reflections for anyone companioning a loved one.
The love and honouring that is front and centre in navigating the journey of care and companionship include lessons, tips and ideas that we all can learn from as we seek to honour our loved ones.
Louise shared how she and her core care team approach the changing conditions with their fathers' care that can create those reaction based roller coaster moments we can find ourselves in as we move through crisis mode to a plateau to a new normal being established.
We heard how important it is to focus on the present, and be witness to what we are experiencing today, and acknowledge the tasks that need to be addressed in the now, and what tasks or challenges may be put aside for tomorrow.
This episode offers listeners the tips needed to balance how we keep our loved one front and centre while also recognizing the need to engage in our own resilience and self care so that we can be our best selves as we love and support the precious humans in our circle.
May the gift of presence support you as you listen in to this special episode of Resilience & You.