Featured
Share online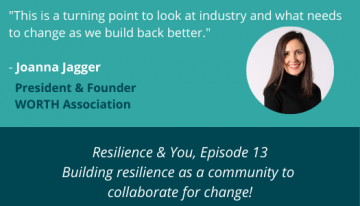 Building resilience as a community to collaborate for change!
Episode 13 was the day to talk about resilience for workers in the tourism, hospitality and recreation sector. Join me as Joanna Jagger and I explore this sector which has been so hard hit by the pandemic; the inspiring stories of women who are navigating the challenges associated with restaurant closures; working in hotels that have been providing housing for health care workers and travellers; and what could be possible for this sector to build back better.
As the founder of the WORTH association, Joanna is working tirelessly to build community, connection and a career path for women who work in this sector. In this episode she reminds us that this sector has enormous resilience, and will thrive again. As guests and patrons of the restaurant, hospitality and tourism industries, we need to ground our interactions with respect for these fabulous humans who provide us with amazing service, especially amidst these COVID times.
Listen in to episode 13 of Resilience & You and consider how your actions can build resilience to support energy to champion change in your own sector!
=========================================================================
Congratulations to Beth Page and colleagues behind the scenes on this fantastic series and thank you for sharing this content with us!