Resilience and YOU: Episode 11
Featured
Share online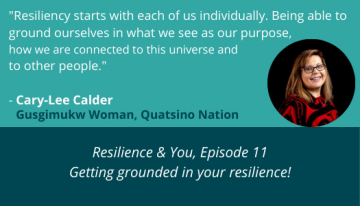 With a practice of aligning purpose with action, connecting with the earth, rising with gratitude and setting daily intentions on how she will bring her best self forward, we learn from Cary-Lee Calder that we also need to make space for self care.
Cary-Lee's niece, Angeline Pete, went missing in 2011. Having a missing person in her life is an unfathomable challenge.
Cary-Lee shares how grounding herself as an act of self care is in service to her commitment to bring light to Missing & Murdered Indigenous Women & Girls (MMIWG), creating opportunity for healing to happen for families impacted by MMIWG. Cary-Lee walks with her Ancestors with her energy aligned to her purpose of contributing to the resiliency of young Indigenous women & men.
She offers an invitation for each of us to contribute to the acknowledgement of MMIWG, by familiarizing ourselves with the calls to action, to understand the history & educate ourselves. Begin your learning by watching this powerfully beautiful video Cary-Lee dedicates to all Kwakwak'wakw families impacted by MMIWG. 
Cary-Lee celebrates the worth that each of us possesses and invites women and men to value themselves, contribute to creating safe spaces, and be willing to stand up and stand for respect for all precious humans.

Listen in today.