Resilience and YOU: Episode 10
Featured
Share online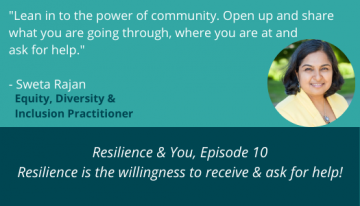 Episode 10, Resilience is the willingness to receive and ask for help
As humans we find it easier to ask for help when we are being successful than when we are struggling.
My special guest Sweta Rajan reminds us this week in the resilience conversation that when we are facing challenges we can find it difficult to see the solution on our own, and often wait to ask for help until we get to a place of exhaustion, mental burn out, depression.
Sweta encourages us to lean in to community, to create space to ask for help and open ourselves to receive contributions of support.
A show dedicated to the many miracles big and small that are possible when we open our hearts and ourselves to making requests and to receiving help that can come in many forms and from unexpected people. The magic of a LinkedIn connection is available to us all, when we can keep ourselves open to possibility.
Join Sweta and I as we explore resilience and the power that comes from receiving in episode 10 of Resilience & You!
Listen here.