Preparing for MA in Global Leadership (MAGL) Program Trip to Ecuador
Featured
Share online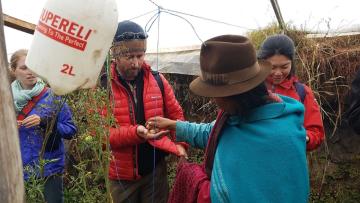 Every year the MAGL program takes students abroad for its elective GBLD 535: International Cultural Leadership Field Trip. The countries in which this course has taken place are Ecuador and during the pandemic in India with its partner, Participatory Research in India (PRIA), connecting students to numerous partners in India through the online space.  A fully subscribed trip, MAGL is again preparing for its excursion to Ecuador with its numerous in-country friends, partners, and communities for September. 
Dr. George Fedha, World Food Program country director for Namibia and MAGL instructor, and Lisa Corak, Coordinator of the MAGL program, will guide students on this course trip over nearly two weeks through vastly different geographies, diverse communities, political dynamics, and cultures, and various socio-economic realities in country. In this way, excursions offer a contextualized understanding of economic disparity, Indigenous or minority group concerns, and political change. Part of the 7-week course takes place online and provides rich learning opportunities students consistently relay have been one of the greatest highlights of their MAGL program experience. 
The importance of the International Cultural Leadership Field Trip to Global Leadership can be experienced on many fronts. As Royal Roads proudly leads student growth and development through experiential learning, such trips offer probably the best means for anchoring concepts in real-world contexts. The Global Leadership program has three key areas for learning: a) personal leadership working in a global context; b) leading in a diverse global context; and c) leading sustained change in complex environments. Because the Global Leadership program leads student growth and development through these three areas, this international course opportunity supports student learning around systems thinking, as a core competency, as we live in an interconnected and complex world. The world is now at a crossroads. We feel the urgency to shift the current focus on global economy to global community through systems thinking and being, planetary health awareness and leadership practices, sustainable change, food security and access, civil society development, and simply focusing on what matters most to people to create a better reality that benefits all and leaves no one behind.
Our friends, partners, and communities also very much look forward to engaging with MAGL students. There will be so many different lived realities that many actors on the ground want others to learn about and they want to share. These include not only development challenges, food insecurity, community development, Indigenous rights, minority group, or economic development challenges.  These include Indigenous practices around sustainability, resiliency, and adaptability, various examples of cultural richness, some that are being eroded, sustainable ways of seeing, being, and doing, planetary health opportunities, and so much more. Students have assignments, of course! One of the assignments involves developing a presentation, and most often a few students are selected by and with our partners to speak to a large audience and engage on questions and answers. One is designed to support and deepen how we observe and understand data. One, the last, helps students go yet further through deep reflection on this learning journey.
While this year's course is full, the next year's may be open to the broader Royal Roads student community meeting pre-requisites. The following graphic offers a little more detail on the course.