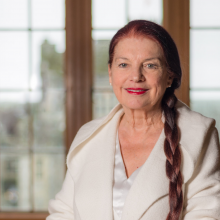 I am currently Professor in the College of Interdisciplinary Studies and Program Head of the Doctor of Social Sciences, a program I was instrumental in developing. Much of my career at RRU over the past twenty years has been as a senior academic administrator including as founding Associate Vice-President Research as well as Acting Dean for both the Faculty of Social and Applied Sciences and the Faculty of Management. My research interests action learning and action research, the social engagement of the social scientist, interdisciplinarity, chaos theory, social and organizational change, and systems thinking. 
Experience
I came to RRU in 2000 to become the university's founding Director of Research and subsequently Associate Vice President Research and Faculty Affairs, responsible for providing strategic and operational leadership of research as well as faculty member relations and graduate studies administration. Prior to RRU, I was with York University from 1980 to 2000 with the Faculty of Environmental Studies (FES) and the Faculty of Graduate Studies, which included primary supervisor or supervisory committee member roles for several hundred graduate capstone papers (major papers, major projects, theses, dissertations). I held various academic administrative roles including Coordinator for Action Learning Resources, Research Coordinator of Native/Canadian Relations centre, Manager of Research and External Relations for FES and the York Centre for Applied Sustainability.
Education
1998
PhD in Sociology
York University
1980
Master in Environmental Studies (MES)
York University
1977
Bachelor of Arts in English and Sociology
University of New Brunswick
Publications
Dale, A., Clifton-Ross, J., Jost, F., Leighton, H., Hodson, J., and Bernard, M. (pending). Biodiversity and Climate Change Research: Harnessing the Power of Art, Science and Social Media. Journal of Community Engagement and Scholarship, Special Edition,  2019.
Hodson, J., Doc, P., Leighton, H., Dale, A., Bernard, M.& Clifton, J. (2019). Understanding research curation: Methodology and insights. 2019.
Doc., P., Hodson, J., Leighton, H., Dale, A., Clifton, J., Newell, R., & Bernard, M. (2019). An investigation into the use of different online media channels for research dissemination. 2019
Bernard, Mary. New Forms of Coherence. Book Chapter in Planning for Turbulent Environments: The Use of Casual Textures and Scenario. R. Ramirez, J. Selsky (eds.) Earthscan, Science in Society Series, 2009.