Young women leading the way to make sport safe at all levels
Topics
Featured
Share online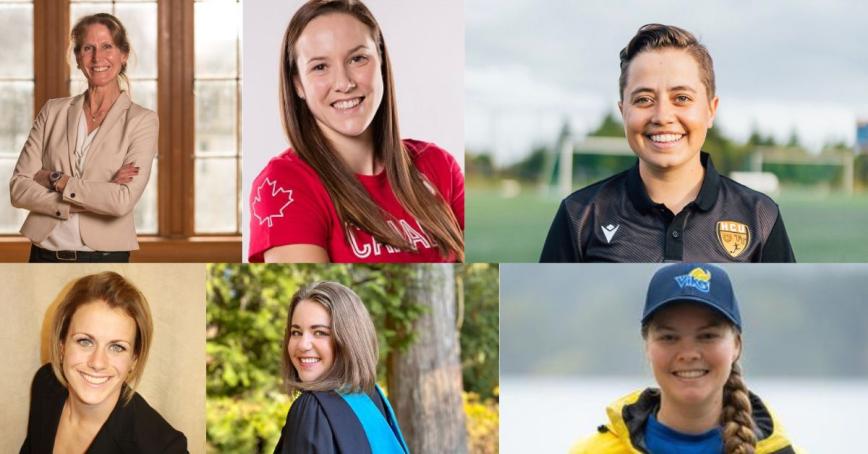 Jennifer Walinga is an accomplished athlete, educator and sport leader, and now she's working with a new generation of leaders who want to ensure safe sport for all.
A member of Canadian Commonwealth, World and Olympic gold medal rowing crews, and a professor in Royal Roads University's School of Communication and Culture, Walinga has assembled a team of her current and former students — all young women — who are conducting research projects into building a healthier environment in sport:
Natasha Watcham-Roy, an Olympic bronze medalist in Rugby Sevens, and Andrea Burk, a World Cup silver medalist in Rugby Fifteens, both recent graduates of the MA in Leadership whose research focused on the role of culture and psychological safety in the Rugby Canada environment.

Jane Gumley and Samantha Heron, both former national team rowers, current and recent RRU graduate students, and accomplished coaches, are exploring modern coaching practices for the modern athlete in more inclusive and values-based sport environments.

And Danielle Cyr, a graduate of the MA in Professional Communication program who is currently conducting doctoral research entitled More than Medals: Challenging Organizational Cultures that Inhibit Social and Leadership Development in Performance Sport.
"They're working in the area of sport from different perspectives," Walinga says, "and I thought it would be a great opportunity to give them a platform as young leaders to speak about what they're working on… and model that leadership to other young athletes who are developing and learning as leaders and trying to solve some of the challenges that sport is facing."
She will be hosting all five leaders in Episode 24 of RRU's Sport Leadership and Social Change webinar series March 22 from noon to 1:30 p.m.
Regarding working toward a safer sport environment at a time when several Canadian national sports organizations are under fire for mismanagement and coaches' abusive behaviour, Walinga says, "I want to bring people together as much as possible to show that we can all come from different perspectives but we're simply trying to improve sport. And these people I think will model that really well.
"We're all working for the same thing, let's figure out how to do it best."
She also notes that women in sport have a unique perspective, and not just those who have been directly affected by abuse, such as the victims of Bob Birarda, a former Team Canada and Vancouver Whitecaps women's soccer coach.
"We're considered lesser beings in the world and, therefore, definitely lesser athletes," she says, noting what can be seen in the failure to fund Canadian women's national soccer team players equal to their male counterparts, or in the reluctance or outright refusal to give elite women's events coverage similar to that granted men's events even though they attract viewers.
Still, there is a way forward based in the foundation of athletic competition.
"Sport has a lot of promise," she says. "You need to remember why you watch the Olympics and all those beautiful stories. Sport possesses all these beautiful principles of striving together with your coach, with each other, with your opponents."
The human toll of not addressing toxic environments in sport is anything but beautiful, however, and Walinga points to the recent dispute between the Canadian women's soccer team and Soccer Canada, and references a photo she saw of team members, including Christine Sinclair talking about the conflict.
"They just look wrecked…It's exhausting and consuming, and yet we cannot relent."
• Read more about the Sport Leadership and Social Change webinar series hosted by Walinga and register to participate.
We always want to hear stories about the people, programs and places that are the Royal Roads experience. Share yours via the RRU Story Exchange and it could be featured on our website and social media.