Cyr shoots for a big win: more women coaches
Topics
Featured
Share online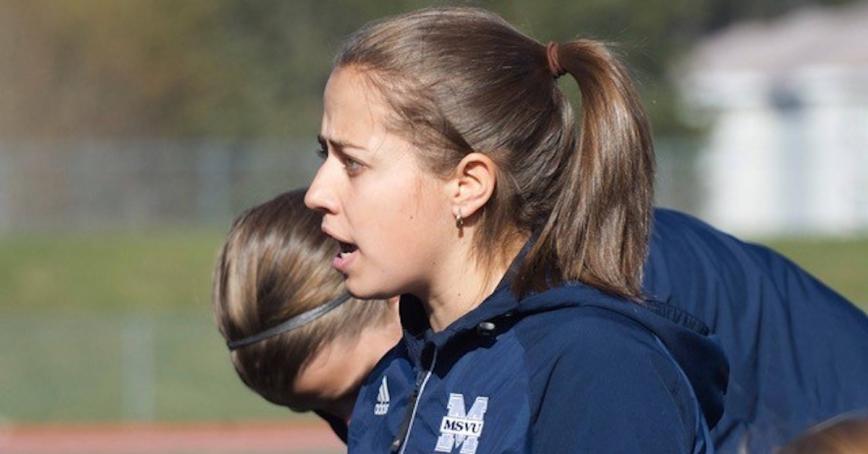 At a time when the pandemic sidelined sports at all levels, one soccer coach kept pushing for wins.
But the victories for which Danielle Cyr is aiming won't be shown in scoreboard lights, nor will they come at the end of 90 minutes or result in the awarding of a trophy.
Cyr, 28, is head coach of the women's varsity soccer team at Mount Saint Vincent University in Halifax, N.S., and even as COVID-19 has recently prevented her squad and other college teams from competing in league play, she has continued to strive towards her goal: having more women like her take on coaching roles in Canada.
To that end, Cyr — who last spring completed her Master of Arts in Professional Communication at Royal Roads University and, a few months later, started a Doctor of Social Sciences program at the Vancouver Island institution looking at sport, gender studies and communications — created the Leadership Development Program within the Canadian Collegiate Athletic Association's Female Apprentice Coach Program. In it, 19 apprentice female coaches are being mentored by university and college head coaches.
"When you start coaching, you coach how you've been coached," says the native of Pictou, N.S. who started playing soccer at age four or five and also competed in basketball, badminton and softball, as well as running track and cross-country.
But to be effective, she quickly learned, a coach must leverage the perspectives, insights and leadership abilities of the people around them.
This was especially true for her as a young woman who started as an assistant coach at Mount Saint Vincent immediately after completing her playing career and, one year later, was named co-head coach of the Mystics with former teammate Danielle MacDonald (Cyr has been head coach since 2017). 
"A lot of the challenges that I've had as a coach haven't always had to do with the X's and O's of soccer," says Cyr, whose parents are both teachers. "It's really been about how do you lead people effectively. 
"As a coach, there's a lot of pressure — especially in a performance environment, in a university environment — to win. And I think as young, female coach, I really felt the pressure to not just win but to prove myself because I didn't see a whole lot of people who looked like me in that space."
Cyr knows she's not the only one. As the CCAA states on its website: "The goal of the Leadership Development Program is for the apprentices to feel more competent and confident to lead in sport while understanding and identifying the barriers women face in sport and, therefore, being equipped to overcome them."
Those barriers include a traditional male-dominated, top-down approach to sport coaching and leadership.
"One of the cool things that women bring into that space is a little bit more of that collaboration [and] shared leadership," Cyr says, adding that male coaches should feel comfortable to show those qualities as well.
"At the end of this, why are we creating broken athletes when we can create whole athletes… who learn to become fantastic leaders?"
Jennifer Walinga counts Cyr as one such leader. A professor in Royal Roads' School of Communication and Culture since 2008, and an instructor at the university since 2000, she says of her student: "She's just this amazing nugget and so intelligent. Such a leader." 
She says she witnessed Cyr's capabilities when she facilitated group work and when she worked as a teaching assistant in an elective called Sport for Society.
And Walinga, an Olympic and Commonwealth Games gold medallist in rowing and member of Canada's Sports Hall of Fame, says Cyr is the right person at a crucial time to ask questions about sport leadership in Canada and the role of women.
"Sport, especially right now, is at a real turning point," Walinga says, pointing to cases of bullying and abuse of athletes, and noting power imbalances that prioritize money and medals over performance.
What's crucial to changing sport culture, she says, is better equipping coaches, which is what the Leadership Development Program aims to do for young women.
"Women will succeed when they're supported, when they feel connected," Walinga says. 
As Cyr says: "We can win and we can be great but we can also develop amazing leaders and humans along the way."
Cyr received two student awards while at Royal Roads University: the Allan Cahoon Global Advancement and Diversity Award (recognizing the economic and social importance of inclusion); and the Diana Beeson Memorial Award (recognizing students who have presented a thesis or research study demonstrating excellence of scholarship).