Topics
Featured
Share online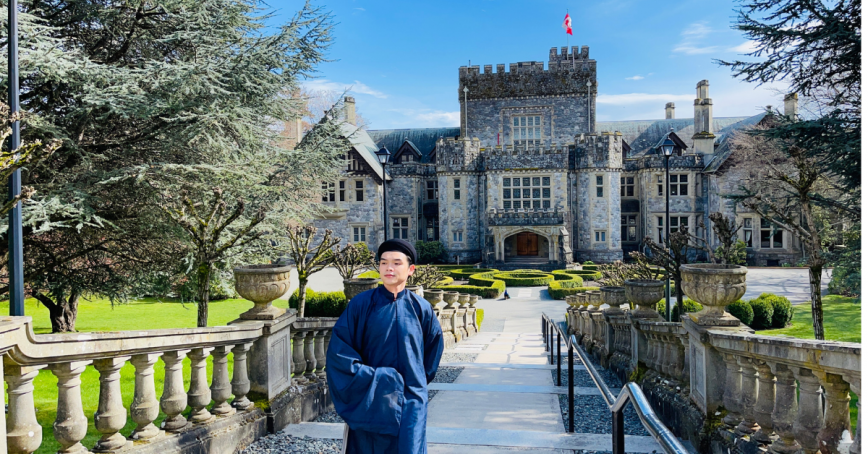 May is Asian Heritage Month in Canada and Will Nguyễn has half of its 2022 theme — Celebrating Innovation and Perseverance — nailed down.
And added to the perseverance he has shown in Canada, as a student and volunteer, is an unrestrained enthusiasm for friendships, for learning about different countries and cultures, and for sharing his culture with people in his adopted home.
A student in Royal Roads University's Master of Arts in Intercultural and International Communications program, Nguyễn hails from Ho Chi Minh City, a city of nine million people and Vietnam's largest. He studied social work there, earning a Bachelor of Arts from Ton Duc Thang University, then came to Canada in 2019, living in Toronto for two years and studying content strategy, while also working with the non-profit Ao Dai Canada, whose mission is "foster, preserve, and celebrate Vietnamese Canadian arts and culture, while raising awareness against human trafficking."
He chose to pursue his MA at Royal Roads, moving to Vancouver Island in February of this year, for two reasons: Toronto (cold) versus Victoria (mild) weather; and an acknowledgement that to work in communications, whether in Canada or internationally, requires an understanding of diverse peoples and their cultures, including those of Indigenous Peoples.
"It's an amazing journey for me because I want to understand about different cultures," he says, adding later, "I'm so enjoying the moments in Royal Roads."
Indeed, not long after arriving at RRU, he became a campus ambassador, meeting with new and current students, answering questions and sharing his experiences and enthusiasm.
"I don't know how I can compare myself between this moment and before… [Royal Roads] encouraged me to communicate more, to have more friends, to understand more of their culture."
Nguyễn says his MAIIC cohort, including friends from India, the Philippines, Nigeria, Bangladesh, China, Hong Kong, as well as, Quebec and other parts of Canada, has been key to his learning at RRU.
"They show me more about how their culture works, how they live in their country. I always remind myself that we came to Royal Roads to learn from each other. We learn from different cultures, not only from the class, not only from the instructors, but from our cohort, from their culture, from their experience, from their lives."
At the same time, he says, he and other Vietnamese people have much to contribute to Canada, sharing their culture and experiences, from his favourite foods — banh mi and phở — to knowledge about his homeland's diversity of ethnic groups and even languages.
The pull of Vietnam is more than mealtime for Nguyễn, however. The rest of his family is there, including his parents, a sister and a brother, and he says it was difficult to be in Canada when his father was suffering through COVID.
Not as difficult was getting COVID himself, while he lived in Toronto. He was able to persevere, he says, because of his friends.
"Even if I felt lonely or I felt sad when I got COVID-19, they brought a lot of food to my home to take care of me," Nguyễn says. "That is my inspiration in Canada. I've got a second home here."
Nguyễn is the first person in his family to earn a university degree, let alone two. And after he completes his MAIIC, his parents are planning to travel to Victoria for his graduation. "They are quite proud and they're waiting for that," he says.
The federal government officially declared May Asian Heritage Month in 2002 but AHM has been celebrated across Canada since the 1990s. In 2022, the AHM theme is Celebrating Innovation and Perseverance.
Visit our Asian Heritage Month webpage for more stories about Asian people in our community, to learn about upcoming events and discussions, and to find cultural and educational resources put together by our Royal Roads community.