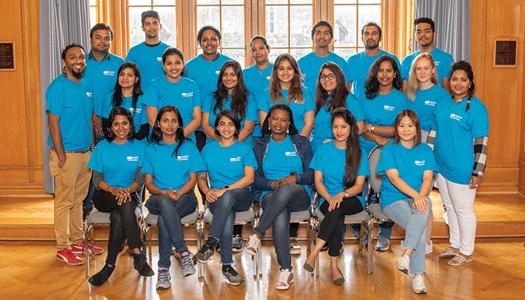 Students helping students
The kindness of Royal Roads ambassadors sets the tone for the student experience on campus.
As a campus ambassador, you'll be a friendly face at welcome celebrations, events, campus tours and activities.
You'll meet new and current students, answer questions and share your experiences and enthusiasm for Royal Roads.
Become a campus ambassador
Volunteers from around the world are invited to apply to become campus ambassadors.
In this role, you'll:
commit up to three hours a week (occasionally, more hours required for big events)
increase awareness of activities, events and opportunities that strengthen the Royal Roads community
help plan and put on events, including putting up posters, circulating flyers, sharing updates on social media and running an information booth
attend a training session
familiarize yourself with university policies
support the learning and development of students
Your opportunity
As a campus ambassador, you'll gain experience to enhance your résumé, receive a recognition letter for your contributions and attend our annual volunteer appreciation party.
The ambassador who shows the most innovation and initiative will earn a certificate of achievement.
Becoming a campus ambassador
Eligibility
To be eligible to be a campus ambassador you must:
be a current student in good academic standing
maintain satisfactory academic progress
Apply today
Fill out the application form to apply to be a campus ambassador.