RRU students to compete in three-minute thesis competition
Topics
Featured
Share online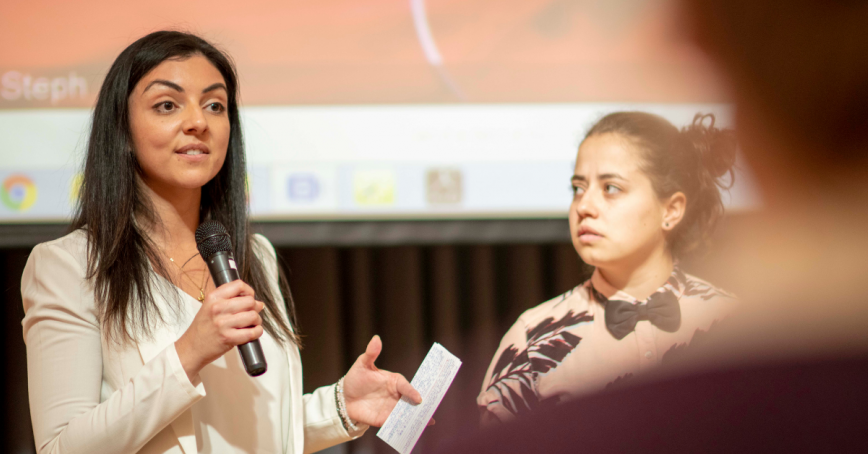 In just three minutes, you could order take out, make a cup of tea or practice a few quick sun salutations.
But could you summarize an entire thesis paper?
Fourteen Royal Roads University master's and doctoral students will try to do just that at the Royal Roads 3MT competition March 10.
The 3MT Competition was developed by The University of Queensland in 2008 and now more than 900 universities from more than 85 countries worldwide now participate, including 45 from Canada. The aim of the competition is to cultivate students' academic, presentation, and research communication skills.
The winner will represent RRU at the western regional competition hosted by the University of Winnipeg May 6. Regional winners go on to participate at the National 3MT Showcase at the 60th Annual Canadian Association for Graduate Studies Conference happening next fall in Montreal.
This year's competitors are:
Bolu Adewale, Doctor of Social Science, presents "Let There be Light: The Truth Behind the Lived Experiences of FGM Practices in Osun State, Nigeria"

Walter Alvarez Bardales, Doctor of Social Sciences, presents "Lack of Access to Healthcare by Uninsured Groups in Ontario and Consequences"

Jules André-Brown, Master of Arts in Leadership, presents "Engaging Young People in an Exploration of Transformative Possibilities for the Future of Arts Organizations"

Hannah Avenant, Master of Science in Environment and Management, presents "Marine Plastic Debris – Exploring Sources & Transport in Coastal British Columbia"

John Devitt, Master of Arts in Leadership, presents "Enhancing Diversity and Inclusion at Fair Vote Canada: Transforming Organizational Culture"

Patricia Halinowski, Master of Science in Environment and Management, presents "Using Photosynthetic Rates to Estimate the Juvenile Sockeye Salmon (Oncorhynchus nerka) Rearing Capacity of Adams Lake, British Columbia and Testing Model Predictions"

Gary Hayes, Doctor of Social Sciences, presents "Wisdom Seeking, Docustory, and Impact: A Transdisciplinary Approach to Improving Liver Wellness with Indigenous Communities"

Paula Insell, Master of Arts in Learning and Technology, presents "Hey, You're Muted!: Experiential Learning from the Unexpected Shift in Hiring, Learning, and Working Remotely"

Nicole Krywionek, Master of Arts in Leadership – Health, presents "Change Responsiveness and the Frontline Leader"

BoWaine Ma, Master of Arts in Leadership, presents "Advocating for Inclusive Leadership in Windsor, Ontario"

Peter Rasquinah, Doctor of Business Administration, presents "Exploring IT Service Delivery at the University of the Fraser Valley"

Sherry St. Cyr, Doctor of Social Sciences, presents "Another Tool in the Toolbox: Exploring the User Experience of a Police Mental Health App Through an Interdisciplinary Lens"

Catherine White, Master of Arts in Interdisciplinary Studies, presents "Hyperconnected: Building Brands in a Decentralized World"

Veronica Woodruff, Master of Arts in Leadership, presents "Importance of Collaboration in Addressing Natural Hazard Risk in Pemberton, BC"
RRU faculty members. Dr. Mary Bernard, Dr. M. Hassan Wafai, Dr. Elizabeth Childs, and Dr. Chaseten Remillard will judge the competition.
The RRU 3MT Competition is hosted and organized by the Office of the Vice-President Academic and Provost, under the leadership of Theses and Dissertations Manager, Janine Hughes and Dr. Jo Axe, professor, with the School of Education and Technology and program head of the Master of Arts in Interdisciplinary Studies program.
The RRU 3MT competition will be held virtually via Zoom Thursday, March 10 from 10:30 a.m. to 12 p.m. PST. To watch remotely, contact Janine Hughes by Monday, March 7.