Topics
Featured
Share online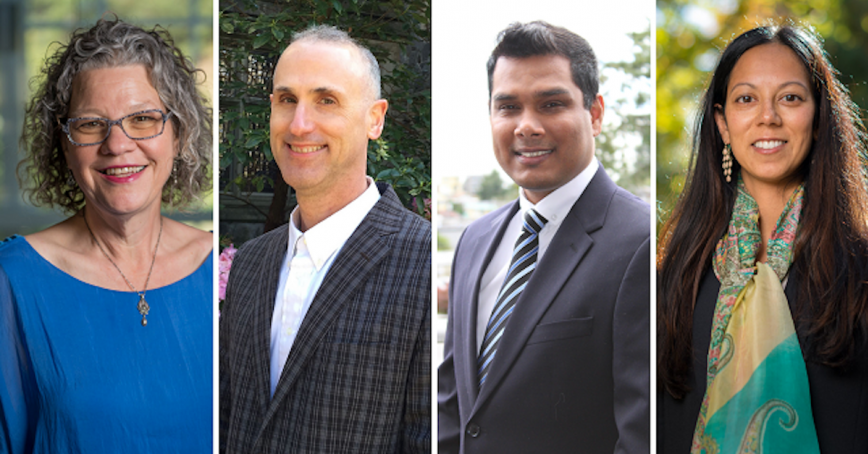 In response to global, national and community-based problems, Royal Roads researchers are studying a range of problems from dirty money to a cleaner energy future.
With a focus on innovative, applicable and real-world research, they're investigating better ways of detecting financial fraud, protecting the environment through the arts and how businesses can put both people and profits first.
We caught up with four faculty members for our annual Research in Action series to ask them how they're contributing to a more inclusive and equitable future for us all. Here's what they said.
Prof. Frances Jorgensen: The human side of business
Organizations that try to reduce employee absenteeism because of illness may be doing themselves a disservice. These measures often come at a cost, says School of Business Prof. Frances Jorgensen. So how do we put people and profits first?
"We've got to find what makes us happy and keeps us healthy," she says. "If we're all doing that for ourselves and each other, then I think the world would be better."
Find out how Jorgensen turns theory into practice for real world change.
Assoc. Prof. Geo Takach: Environmental protection, a laughing matter?
Rational appeals to science are failing us when it comes to environmental protection. So how can we motivate people to act? Laughter, arts-based methods and appeals to emotion are more effective at getting to the heart of the matter, says School of Communication and Culture Assoc. Prof. Geo Takach.
"The shortest distance between two people is not a straight line, but a comedic line. The power to engage people is something that I'm working on harnessing in my research in an effort to get people to see the world in different ways—humor being one of them," Takach says.
Find out how Takach is using his research to reach hearts, minds and funny bones.
Assoc. Prof. Mark Lokanan: Cleaning up Canada's dirty money problem
Cash crimes have a negative effect on everything from your personal investment accounts to the housing market. School of Business financial crimes and investigations expert Assoc. Prof. Mark Lokanan talks about his research investigating who is cashing in, and who is left empty-handed.
"You have hard-working Canadians who can't afford to buy a house, so the question to ask yourself is: Why is that the case?"
Find out how Lokanan is working to lock out money laundering.
Assist. Prof. Runa Das: The social costs of energy poverty
As we transition to a cleaner energy future, who will come along for the ride and who will get left behind? College of Interdisciplinary Studies Assist. Prof. Runa Das explores energy poverty and what it might mean for Canadians living in both rural and urban areas.
"A sustainable future is one of the biggest challenges we currently face, and it is so very important that we try to figure out where everyone fits into that concept."
Find out how Das' research is changing the meaning of energy poverty in Canada.