Rave reviews — and a Kelly Teaching Award — for facilitation team
Topics
Featured
Share online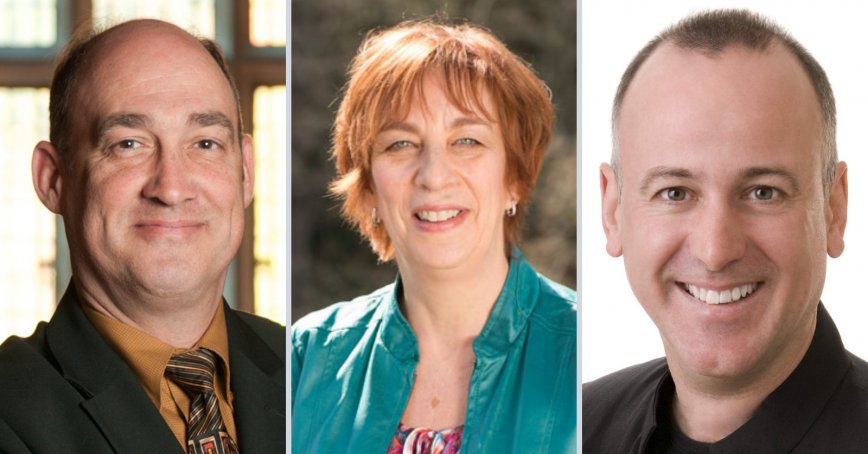 The rave reviews are in:
"A waiting list… every time."
"Invaluable for helping strengthen and build relationships."
"I can take pieces of what I learned and apply it to many different aspects of my life."
A new TV talk show? The latest self-help craze? No, the program drawing all that praise from its former participants is the Leading Complex Systems course at Royal Roads University.
And the latest rave: Facilitators Phil Cady, Tammy Dewar and Dave Whittington, were honoured this fall with RRU's Kelly Outstanding Teaching Award, in the Outstanding Workshop Facilitation Award category. The Kelly awards recognize teachers who promote Royal Roads' learner-centred philosophy and make positive contributions to teaching excellence.
Among their nominators are Zoë MacLeod, Royal Roads' associate vice-president, Professional and Continuing Studies, and Laura Lee Langley, head of the public service for the Province of Nova Scotia.
Created in 2017, the five-day intensive course — in person prior to the pandemic, online now — aims to help leaders in business and government, such as the dozens of Nova Scotia provincial government officials who've taken the course, develop tools to deal with real-world challenges.
"These folks who come are pretty 'Type A, get stuff done, do it now,'" says Dewar. "So, there's a tension… they want practical tools and, at the same time, they have to just wrestle philosophically with things."
The challenge, she says, it to make the lessons practical and applicable "so the participants in the program can learn how to apply those ideas in real time, in their work."
And the payback? "Working with the learners themselves because they're excited and they want to learn," Dewar says. "For some of them, the penny has dropped and it feels like this thing that they were working on was so stuck, and by the end of the week they come out of it and it's like, 'Ah, I have hope.'
"It feels like there's a ripple effect to this work that is kind of profound... They have this new insight and they go out and make more of an impact, and how cool is that."
Whittington, Dewar's husband, says: "I learn lots and lots from the participants. As I see the participants wrangle with their complex challenges, apply to the tools to them… I learn more about how the tools work. So, for me, it feels like a week of professional development."
Says Cady: "One of the principles in the School of Leadership is called an 'orientation to possibility.' I think, if you pull a thread through the entire program, it's about asking the question 'What else is possible?'
"There's a lot of energy around these types of conversations," he adds, "however, there are only so many hours in a day that we can keep people engaged and in a classroom."
One of the keys to maintaining engagement throughout long days, Cady says, is also the energy that is a hallmark of the program: "The levity, the quickness, the adaptability."
"We say that we take our work seriously, but we don't take ourselves seriously," says Whittington. "This is hard work and if you can't have fun when you're doing it, it becomes a huge burden."
The burden of the pandemic presented a challenge to them as it did all teachers at all levels of education.
"It opened doors in the use of new tools," says Cady, noting Whittington, who has a PhD in computer science and an engineering background, led the way technically. "We've actually generated, in some respects, a richer learning environment in the virtual space than we can do in the in-person space. I don't see it as a lesser space, it's a different space."
Looking ahead to the return of in-person workshops, Whittington says: "I couldn't have predicted what this would have looked like 18 months ago. We have these super-enriched learning environments where people are fully engaged for a whole week. So, I don't know what the next 18 months are going to bring but it's going to be exciting."
Additional words of praise from the Kelly Award nomination:
"This is one of the most powerful PD courses I've taken! The facilitators were very knowledgeable 'pracademics' who beautifully blended theory with hands-on learning, discussion and activities. The breadth and depth of learning around 'leading complex systems' within a short time span was impressive — the time flew by, and I was left with many aha moments and reflections."
"Questions and ideas posed by the cohort were immediately met with real world/case study examples to support ideas, offer considerations, and identify transferable strategies."
"This program has been invaluable for helping strengthen and build relationships. I am looking forward to going back to work and work more closely with these people that also attended this program."
The Kelly Outstanding Teaching Awards were created in recognition of Dr. Gerald O. Kelly, the first installed president of Royal Roads University, through an endowment fund. A teacher, Kelly believed universities should be built around the learner. With students top of mind, he encouraged Royal Roads instructors to strive for excellence in teaching. Each spring, the call for nominations opens and is publicized throughout the university community. An awards committee selects the winners.