Topics
Featured
Share online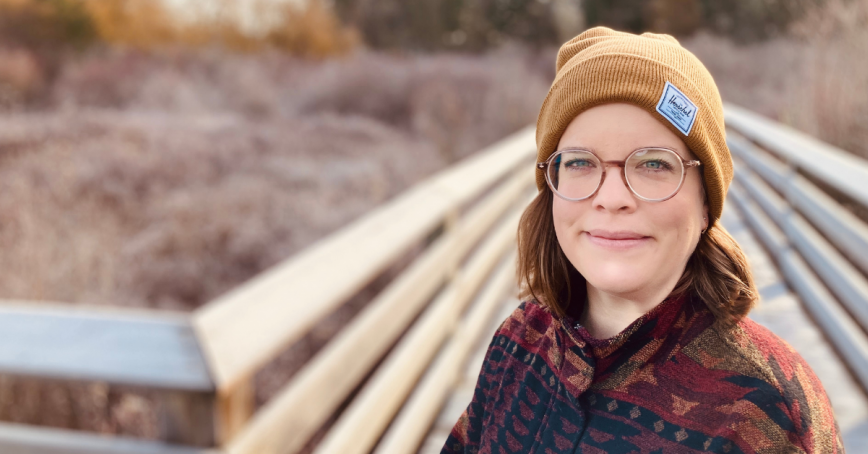 For Ann-Kathrin McLean, all the good that happens in the tourism classes she teaches at Royal Roads University — the learning, the connections, the inspiration — starts in one place: the beginning.
On the first day of class, she explains, all her students are sitting or standing in a circle — tables removed, no physical barriers— and invites them to talk about themselves: where they're from, where they live, a favourite tourism destination near their home, sometimes with a photo.
"It's so rich to really understand," says McLean, an associate faculty member in the School of Tourism and Hospitality Management. "I think it's important at the very beginning to take that time, whether it takes an hour or longer, to give everybody that opportunity to share, whether it's their professional experience or their academic experience, or maybe it's just life experiences."
This time for sharing is a valuable tool in a profession — and a school — that draws people from different professions and walks of life, and from around the globe.
And it's for using this tool and all others at her disposal that McLean was recognized this fall with an RRU Kelly Outstanding Teaching Award under the New Teacher category (for instructors who've taught fewer than five courses at the university). The Kelly awards recognize teachers who promote Royal Roads' learner-centred philosophy and make positive contributions to teaching excellence.
"It's great to see someone such as Ann-Kathrin recognized, particularly at this stage of her career," says Dr. Rebecca Wilson-Mah, who, along with two students, nominated McLean for the award.
An associate professor in RRU's School of Tourism and Hospitality Management and program head for the MA in Tourism Management, Wilson-Mah says, "Ann-Kathrin is an open, friendly, welcoming person and she brings that to her work in the school. She's very inclusive, she's good at giving people space to think and to speak. And she's very good at supporting others on their own learning path.
"Our students come from all over the world and they're in different stages in their careers and we're about helping them situate their own experience in the learning opportunity ahead of them," she says, commenting on McLean's first-day approach. "And you need to give space for that when you're teaching and find ways to create opportunities for that to happen."
Wilson-Mah also calls McLean "a very upbeat, positive, constructive and thoughtful person," for constantly adapting and adjusting her teaching, "actively refreshing and reconsidering ways to enhance what she's already good at."
McLean, who is a Doctor of Social Sciences (DSocSci) candidate, says she loves teaching but sees herself as more of a facilitator than an instructor.
"What really energizes me is that collective environment and these communities that we build together as a group, and just learn with each other. That's the fun part for me," she says.
"All of these different perspectives come together [in the classroom]… We're there to learn from each other and I'm there to just guide them. I don't say that I'm the expert in one field but I'm facilitating that given course, and we can all grow our skillsets.
"So, if they are open to accepting feedback and I'm open to also accepting their feedback throughout the course to continuously adapt the learning experience for all of us, I think that's where the magic happens."
McLean, who was born in Germany and grew up there and in the Middle East before coming to Canada in 2008, has more than 10 years of experience in tourism, working in public relations and events management for non-profit theatre groups. She previously taught at Capilano University's School of Tourism Management and is currently a Konrad Adenauer research fellow at the University of Victoria.
Her DSocSci research explores the relationship between Holocaust remembrance, collective memory and a site of trauma, with a focus on understanding how millennial and Generation Z individuals create meaning at the Dachau Concentration Camp Memorial Site, which was used as a case study for her work.
The Kelly Outstanding Teaching Awards were created in recognition of Dr. Gerald O. Kelly, the first installed president of Royal Roads University, through an endowment fund. A teacher, Kelly believed universities should be built around the learner. With students top-of-mind, he encouraged Royal Roads instructors to strive for excellence in teaching. Each spring, the call for nominations opens and is publicized throughout the university community. An awards committee selects the winners.