"My dreams were not too big": Entrance Award makes a difference
Topics
Featured
Share online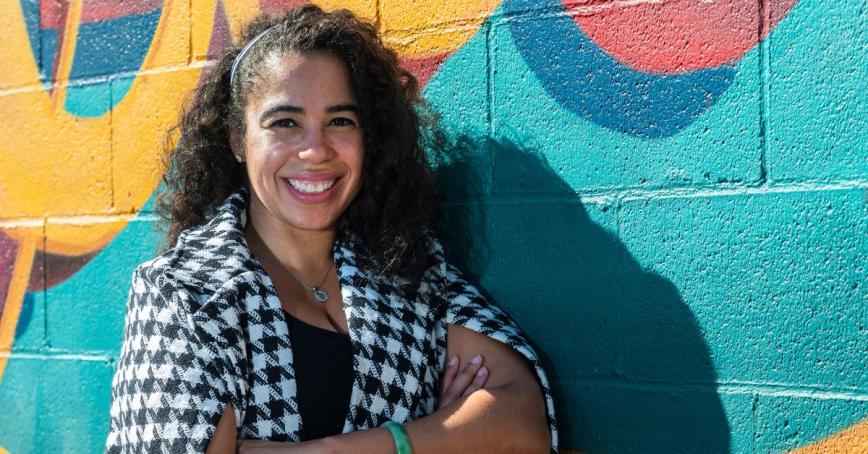 Odion Welch has built a career on helping others and it started with receiving a little help herself at a crucial time.
Her professional and personal resume is impressive – even while she worked on her Master of Arts in Leadership (MAL) at Royal Roads University (she completed the program in July and convocated this November).
Welch has worked with HIV Edmonton as a national project coordinator reviewing cultural supports in HIV/AIDS organizations while also distributing self-testing kits to African, Caribbean and Black communities; and as the mental health coordinator with the Africa Centre, a social services organization where she helped launch a free mental wellness program for Black Albertans dealing with mental health challenges, including those that stem from the impacts of COVID-19. Currently, she serves on the Habitat for Humanity community advisory board and The Ribbon Rouge education board.
Welch has also received several awards, including the Athabasca University Alumni Rising Star, the National Black Coalition of Canada Fil Fraser Award and Alberta Black Therapist Network Literature Award (she also self-published a book, Breakthrough: A Courageous True Story of Overcoming Depression and Anxiety, that sold thousands of copies on Amazon).
But the award that preceded all those — an RRU Entrance Award — both started the ball rolling and was life-changing.
"Getting that award meant someone believed in me even though, on paper and emotionally, I wasn't the prime candidate at all — or, at least, that is how I felt."
Faced with some untimely personal and professional struggles as she was about to start the MAL program, "I delayed one semester and was debating delaying another as I was still attempting to figure it all out, and then the [Entrance Award] email came.
"I had a ton of doubt about my worthiness to complete the program with everything happening in my life," Welch says. "Getting that award meant someone believed in me even though, on paper and emotionally, I wasn't the prime candidate at all — or, at least, that is how I felt.
"The award was a financial relief and it was a source of validation that my dreams were not too big," she says.  "It also was a motivator because I did not want it to go to waste. And although I still worked a few part-time jobs during my program, it was fewer hours than anticipated. That award allowed me to dive into the materials, ask for help when needed and even join social school activities like [Royal Roads] campus ambassadors."
And Welch, who's in her 30s, has one more thing to point out about the award: "Tons of scholarships/grants dedicated to women — especially black women — are for those under 30. It assumes that because you are 30, you are in a stable place, and that age limit puts those leaving trauma or rebuilding their lives in a harder place."
What's next? She is considering doing a PhD program and even as her professional resume has expanded, she has branched out into a variety of volunteer opportunities. The mixed-race daughter of a single mom — a Bajan/Amerindian immigrant from Barbados — she's a mentor and active volunteer with Carifest (administration and costume building). She also works with the Amandla Project, which, like her previous work, is creating a hub for culturally relevant mental health resources. 
Royal Roads' Entrance Awards help bring diversity of mind and culture to the university's cohort learning model, supporting students to realize their educational goals. Donations to the fund help make dreams come true.
---
Royal Roads' 2022 alumni appeal focuses on raising funds for two key areas of student financial support: Entrance Awards and our "Life Happens" bursaries, which helps students when unforeseen financial challenges arise. Visit RRUTogether.ca to learn about the truly amazing work former Entrance Award recipients are doing, in communities across the world.
 
We always want to hear stories about the people, programs and places that are the Royal Roads experience. Share yours via the RRU Story Exchange and it could be featured on our web site and social media.