Leading the way on mental health for Black people
Topics
Featured
Share online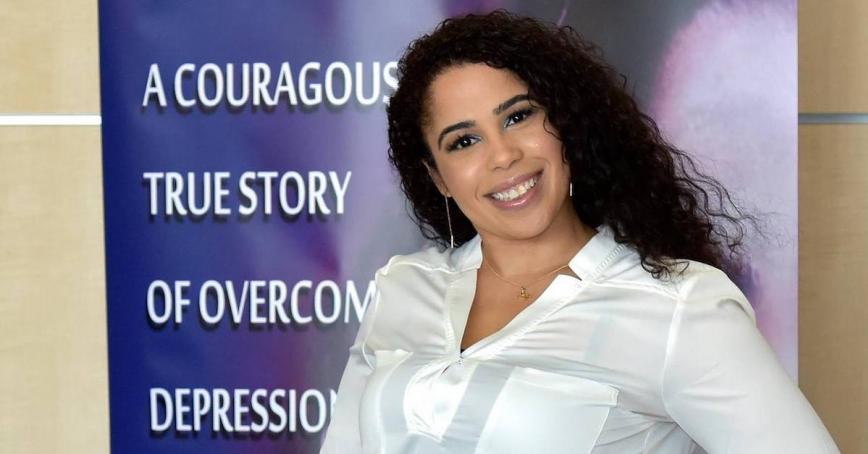 Odion Welch is a leader and a fighter, and the battles she has faced have all led her here.
She is a mixed-race daughter of a single mom — a Bajan/Amerindian immigrant from Barbados — growing up in predominantly white Edmonton, AB in the 90s.
Welch lived in low-income housing and on social assistance, and attended Dan Knott School, a junior high named for a 1930s Edmonton mayor with connections to the Ku Klux Klan.
She struggled with her mental health, with depression, anxiety and suicidal thoughts.
But she's here now, having outlasted all opponents — external and internal — even self-publishing a book, Breakthrough: A Courageous True Story of Overcoming Depression and Anxiety, that sold thousands of copies on Amazon.
Welch, 35, still lives in Edmonton and is making her mark in her hometown. A Royal Roads University Master of Arts in Leadership student, she is also the mental health youth coordinator with the Africa Centre, a social services organization where she helped launch a free mental wellness program for Black Albertans dealing with mental health challenges, including those that stem from the impacts of COVID-19.
Welch says she knew such resources would fill an unmet need because she had been through her own struggles.
"I felt like I really had to fight to find those resources."
People in her community didn't usually speak about health or mental wellness, she says, but more and more, "it became this conversation where it was becoming more open." Still, many Black and mixed-race people with whom she spoke found one-size-fits-all counselling services didn't suit them or weren't attuned to their cultures.
"How do we take the resources that are already there and make them work for us?" says Welch, who also holds a certificate in business management from MacEwan University, a degree in human resources and labour relations from Athabasca University, and a recruitment designation from the Association of Professional Recruiters.
Thus, the program she heads for the Africa Centre offers one-on-one counselling and much more. There are group programs, from art therapy to yoga, that involve learning the Black history of an activity to enhance self-awareness. As an example, she explains, participants learned about the physical and mental wellness routines of ancient Egyptians, or that some Black cultures historically practised forms of yoga, which has, over the years, been marketed as a wellness "trend" by Western culture.  
"So now someone feels empowered by their history," Welch says. "It creates a different narrative, which I think is so impactful."
One of her great joys, she says, was hearing from one parent that their son, after attending a session, would go to his room to do his "pharaoh breathing" when he felt he needed to calm down.
But the Africa Centre program isn't all about the past. The present played a huge and powerful role in the first group event, a "conversation café" held with the Council for Canadians of African and Caribbean Heritage to talk about the May 2020 death of George Floyd at the hands of police in Minneapolis and the subsequent demonstrations held around the world to protest police treatment of Black people. Counsellors were on hand to help participants with the triggering effects of the discussion, which centred on their own experiences with authorities and violence.
Welch credits her experience over the last year at Royal Roads — especially in the middle of a pandemic — with not only providing her an education in the theories and practices of leadership but, also, with the importance of building relationships, even remotely.
"I got to see the power of creating emotional connections in a digital platform," she says.
And making connections in her work with the Africa Centre — bringing Black people together and connecting them with helpful resources — has been rewarding. She notes almost 400 people have participated in mental health programs so far, with another 80 making use of a counselling clinic funded by the United Way.
The mental wellness initiative will continue as it is funded through March 2022 while the clinic's future is less certain because, at this time, it's only funded through this summer.
But because Welch is both a fighter and a leader, she's working on it.