"It is possible": From homeless refugee to doctoral candidate at RRU
Topics
Featured
Share online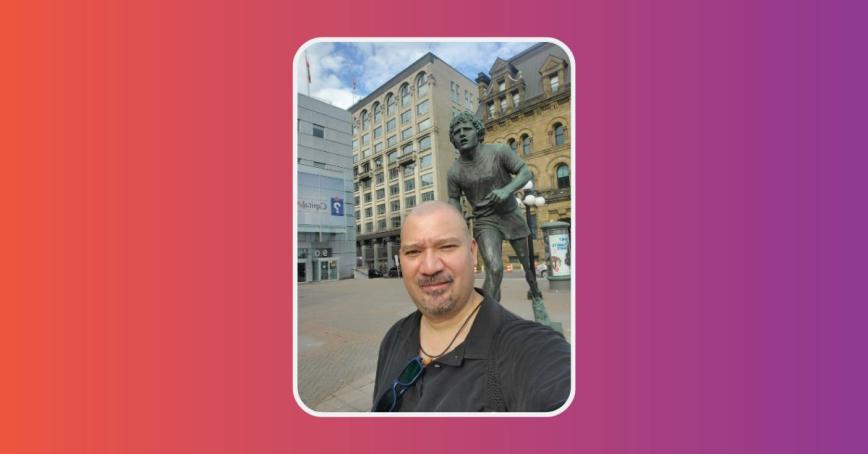 Walter Alvarez-Bardales survived a civil war, life as a refugee, homelessness and hunger to be where he is today – studying in the Doctor of Social Sciences program at Royal Roads University. 
For his academic and personal achievements — and what they mean to others — Alvarez-Bardales recently won ApplyBoard's International Alumni of Impact award, which spotlights former international students who studied in Canada and went on to make a difference in their communities and around the world. 
A former student at Athabasca University in Alberta and Nova Scotia's Cape Breton University, where he earned his MBA, the Toronto resident is pursuing his DSocSci to help others who are experiencing adversity.  
"I want to acquire the skills that will give me a better understanding of global problems, and these skills will be rooted in intelligent compassion," he says. "Because knowledge for knowledge's sake, in my opinion, is empty. I'm hoping, with all these excellent Royal Roads professors who are helping me with my dissertation, I will have the tools to effect change in the real world." 
Alvarez-Bardales is particularly interested in issues such as child labour, both in his home country of Guatemala and around the world, saying even as he sees progress at home, he knows many children have few options beyond a life of poverty or escape to another nation. He is also passionate about access to education for youth, and when he's back home, he often volunteers to teach English to children. 
That passion comes from a childhood full of adversity, he says.  
"Growing up in Guatemala, there was a war at the time, and having the ability, in the middle of a war, to learn and to go to school was nothing short of a miracle. And it's something I owe to my parents because they sheltered me from the horrors of the war going on around us, and the fear." 
Alvarez-Bardales explains that when it was too dangerous for him to attend school, his father, a high school teacher, would tutor him at home. Eventually, it became too dangerous for the family to stay — his father was kidnapped, his brother killed — and he came to Canada as a refugee.  
For a time, he was homeless — another hardship that he says taught him a lesson about self-reliance.  
"We cannot do it alone. In Canada, during the period that I was homeless, I was new to the country, I didn't know anybody, but many Canadian people showed me the way," he says. 
"The Western philosophy of happiness and success typically means money. After that experience of being homeless, I think the meaning of happiness for me is helping others and giving back." 
It's fitting, then, that with the International Alumni of Impact award comes a scholarship in his name for deserving incoming international students. And he has a message for them: 
"Life kept saying, 'no' to me — with adversity, with hardship, with wars, with bullets flying over my head. Life kept saying, 'No, this is not going to happen.' I want those who are in my shoes right now suffering poverty, war, discrimination, or leaving their countries because of war, I want them to hopefully read my story and know that if you believe in yourself, even when you believe that life is telling you, 'No, it's not possible,' you tell life, 'It is possible.' And you keep fighting hard and you keep taking in any support you can, from your community, your loved ones, your family. I want them to realize, if I could do it after all I faced, they can do it." 
You can watch Walter Alvarez-Bardales' International Ed Talk and check out his YouTube channel. 
Learn more about the Doctor of Social Sciences program or request more information.