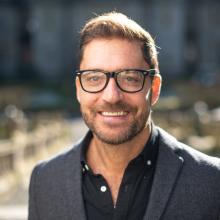 Dr. Patrick O'Neill is an organizational psychologist who combines behavioural science with ancient wisdom traditions to foster collaboration, creativity and systemic change in organizations. He recently served as director of the Master of Arts in Organizational Psychology (MAOP) program at Adler University's Vancouver campus, where he designed the program curriculum, taught courses and supervised student research in all areas of organizational psychology. Additionally, he has taught in business schools at Carleton University, the University of Ottawa, Trent University and Royal Roads University. O'Neill's principal research interests include: The influence of emotion, meaning, and engagement ("flow") on performance at work; the psychosocial dynamics and impact of job insecurity and whole systems change. He has also developed and validated progressive performance metrics for organizations, including measures of corporate social justice, social responsibility and workplace spiritualty.  His research focuses on robust psychometrics, longitudinal panel designs using structural equation modelling (SEM) and advanced meta-analytic techniques. In addition to supervising numerous MA Organizational Psychology dissertations, his work has been published in the Journal of Occupational Health Psychology and presented at conferences held by the Academy of Management, the Society for Industrial and Organizational Psychology, the Canadian Psychological Association and the European Association of Work and Organizational Psychology.
Experience
O'Neill brings more than 16 years of international teaching and consulting experience specializing in collective leadership development and whole systems change. This work has him traveling widely coaching leadership teams, guiding solo wilderness retreats, and hosting innovative forums for community dialogue on critical organizational and societal issues. To date, he has worked with an unusually broad variety of people and organizations, ranging from social entrepreneurs to Indigenous Elders, CEOs to government ministers, university professors to elementary school students. Some of his recent clients have included: United Nations, KPMG, RioTintoAlcan, Corus Entertainment, Lululemon, Shopify, Blueshore Financial, IBM, Department of National Defence, NAV Canada, the Ottawa Citizen, Dynamite Clothing Co., Aviation Strategies International, Vancouver Whitecaps, and Australia Post. As director of the MAOP program, O'Neill co-created and led corporate and social justice practicums where students provided more than 25,000 hours of consulting services to for-profit, non-profit, and social enterprise organizations in North and South America, Mexico, India and Africa. He continues to collaborate with his graduate students delivering workshops and retreats using earth-based wisdom traditions and whole systems change methodologies. He returns from his nomadic journeys to his home in Victoria, British Columbia where he finds true peace in the mountains, ocean and lakes.
He is certified in Co-Active Coaching from the ICF Accredited Coaches Training Institute (CTI), Rites of Passage facilitation from the Rites of Passage Institute and Mindfulness-Based Stress Reduction (MBSR).
Education
2012
PhD in Industrial and Organizational Psychology
Curtin University in Perth, Western Australia
2002
Master of Industrial and Organizational Psychology with distinction
Curtin University
1998
Fourth Year Honours (First Class) in Industrial and Organizational Psychology
University of Western Australia
1997
Bachelor of Arts in Psychology
University of British Columbia