How a Royal Roads donor fund can help students when "Life Happens"
Topics
Featured
Share online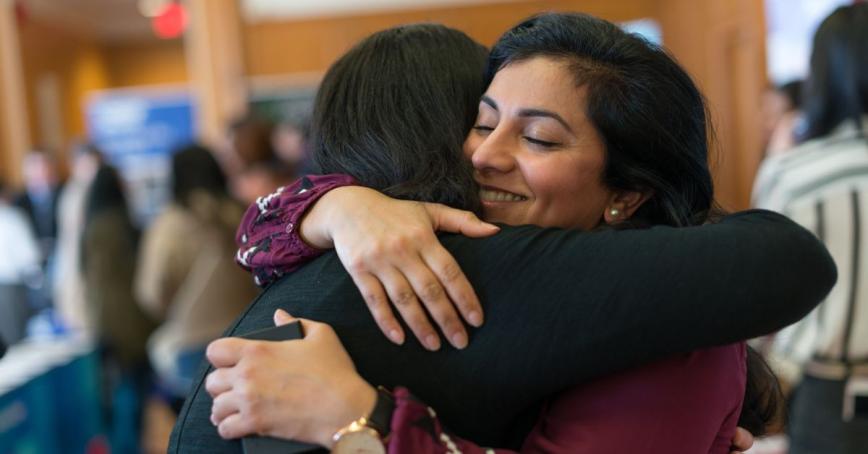 Life happens.
And for when life happens to students at Royal Roads University, there's an emergency fund of the same name to help ease their burden.
The Life Happens Fund was created in 2018 and funded by a grad who was also a staff member. One of several emergency aid funds at the school, it gives cash payments ranging from $500 to $1,000 to RRU students who find themselves with unexpected expenses or challenges that could affect their ability to continue their education, says Gwen Campden, the university's student success manager.
"It's not for tuition or living expenses, it's for things you just don't know will happen – and even simple things can cause real hardship for some students," she says, "whether that's breaking the only pair of glasses you own, your car breaking down or needing to move out of your home suddenly."
Other examples of students whom the aid fund has helped include one who lost their home and job due to wildfires and another whose planned support has been affected by turmoil in Iran. As well, there have been instances where a student had to leave an unsafe situation quickly, and the money took care of a damage deposit for new accommodations.
"To have someone say, 'You're welcome here and we still believe in you and we'll get through this together,' I think that's the value of this fund." 
"To have someone say, 'You're welcome here and we still believe in you and we'll get through this together,' I think that's the value of this fund," Campden says.
"I really like this as one of our suite of emergency funds because of the title," she adds. "It's a very compassionate title that shows the heart behind the funding. I think that really resonates with students who need a little bit of heart now, need a little extra care… It's healing."
Doug Ozeroff, a retired staff member, agrees, saying, "Sometimes students — no matter what they've done, they've planned well — something hits them out of the blue. Life happens, and they're not prepared for it financially. It's that one thing that they need financially just to keep going ahead, keep going in their program."
He should know. Ozeroff is also a former Master of Arts in Professional Communication student and remembers his rough start at RRU: "I came to Royal Roads and I got into the master's program, and I was thinking, 'Oh, my god, this is awesome' and it freaked me right out. And within a week, I was overwhelmed, I couldn't do it. There were too many things going on in the periphery, outside of university.
"So, I went to the program head, I went to the dean, and they were awesome. They said, 'Doug, don't worry. Do what you need to do. We'll be here for you when you're ready to come back.'"
When he did come back, he saw firsthand the power of the cohort to be there for each other too. A fellow student, faced with unexpected financial challenges in the final part of the course, had to use part of his final tuition payment to support his family's needs instead, meaning he would have to postpone his graduation. The cohort quietly passed a hat to help make up the shortfall, and they all graduated together. "That inspired me," says Ozeroff, "to see if I could create a way for all students to 'pay it forward' to another student when 'life happens'. Even small donations can make a big difference when we work together."
"Both of us have been students here," adds Campden, "so we both have seen the struggles of classmates, the joys and hardships students face."
She also encourages prospective donors to RRU to think about the good they can do with their contributions, saying: "One person donating to a student provides them with the financial means to overcome whatever their temporary obstacles are, but it also gives them encouragement to reach their fuller potential. That can be truly powerful."
Since it was created in 2018, the fund has received donations from students, alumni, staff, and members of the broader community. This is why it was selected – along with the Royal Roads Entrance Awards – to benefit from the 2022 Together, Extraordinary alumni appeal.
Like RRU Entrance Awards, the Life Happens Fund is one way we can recognize that not everyone walks the same path, and we all need help from time to time. Getting that help when we need it most can make all the difference.
---
Donations to Together, Extraordinary will be matched dollar for dollar, going twice as far to help students. Up to $32,500 in matching funds are available, so don't wait to make your gift. Does your employer match donations? You could triple your gift!

We always want to hear stories about the people, programs and places that are the Royal Roads experience. Share yours via the RRU Story Exchange and it could be featured on our web site and social media.