Bridging knowledge systems for resilience
Topics
Featured
Share online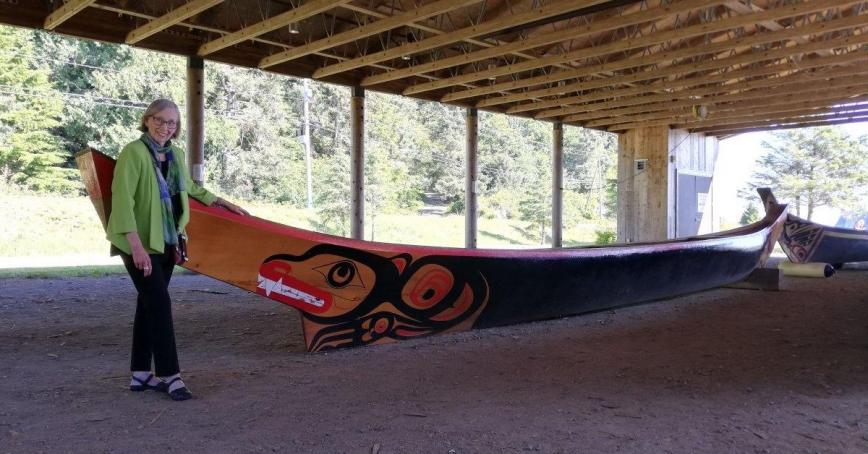 As a state of ecological emergency becomes the new normal around the world, Royal Roads University researchers are looking at ways communities have adapted over millennia to chart paths for resilience.
The Northern Knowledge for Resilience, Sustainable Environments and Adaptation in Coastal Communities (NORSEACC) project focuses on Northern coastal communities who have woven together and bridged diverse knowledge systems in response to rapid social and ecological change.
Principal investigator Prof. Leslie King is working with Dr. Astrid Ogilvie, senior scientist with the Stefansson Arctic Institute, and a team of researchers on the four-year case study project in Iceland, Norway, Scotland's Orkney Islands, and Sooke and Haida Gwaii in British Columbia.
"Our hypothesis is that incorporating different knowledge systems gives you much more scope for successfully adapting to really urgent changes," says King.
"We want to show the ways in which knowledge of past adaptations and resilience is applied to current challenges of climate change and biodiversity loss, and how those different forms of knowledge are incorporated into governance."
King points to the Orkney Islands as an example of adaptation and resilience, from grappling with Viking settlements in the Iron Age to leading energy efficiency in modern times.
"They're isolated. They're islands. And they're a hotbed for innovation," says King. "All the Orkney Islands are covered with spectacular archeological finds on an unbroken line back to 2000 BC, and these were very successful societies. They were successful in the face of rapid environmental and social change. Now we're in another era of rapid social and environmental change."
"Orkney is a perfect crucible because of this unbroken line of independence, isolation and necessary innovation to survive."
The NORSEACC project is built on the premise that both long-term sustainability and adaptability depends on the relationships between people, the social ecological systems they are part of and governance institutions at all levels.
"The whole purpose of NORSEACC is to share innovations, to learn from people who are doing it right, and to share those outcomes and innovations with others," says King.
A compelling case of how bridging knowledge systems can be successful can be seen in the co-management of the Gwaii Haanas National Park Reserve and Haida Heritage Site by the Haida Nation and Canada through the Archipelago Management Board.
Post-doctorial researcher Walter Lepore is looking at how Traditional Ecological Knowledge is woven with western scientific knowledge systems in Gwaii Haanas for the well-being of island communities and ecosystem protection.
"When we talk about knowledge systems, we are not only talking about who produces knowledge, but we are basically talking about what knowledge is and how knowledge is created," says Lepore.
"What is also important is how knowledge is validated. In the scientific world, knowledge is validated through peer review, publishing in journals and feedback. When we talk about traditional knowledge, it's totally different because, for example, Indigenous people disseminate knowledge through oral and place-based traditions. Storytelling is very important. In the scientific world, what is not written doesn't exist."
The work in Gwaii Haanas will investigate how ancient knowledge systems provide the basis for management and preservation of the unique ecosystem of Haida Gwaii, including Gwaii Haanas.
"Gwaii Haanas is hugely important because it is managed in a totally different way due to respect for the knowledge of the people who live there," says King.
"Indigenous Peoples have created management systems based on that knowledge. They've done a better job, for example, of sustaining fisheries. We've moved in in the last 100 years and have destroyed fisheries, one after another. But the First Nations, who have been here forever, were completely sustainable. They never overexploited their resources."
The NORSEACC study will also include investigating Traditional Ecological Knowledge (TEK) in projects to promote sustainability in the Sooke Nation and the resilience of fishing communities in Iceland.