Lessons from RRU's Giving Garden
Featured
Share online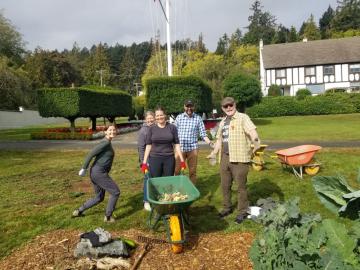 Lessons from RRU's Giving Garden: Eating as pedagogy, experiencing beauty, and linking local to global
On September 28, 2022, several members of the School of Leadership Studies spent 90 minutes working in RRU's Giving Garden, under the leadership of Food Systems Manager, Solara Goldwynn. Many hands make light work, and—even in this short period—we saw the garden expand as we learned about sheet mulching, the no-dig/till technique of creating a garden. This means layering cardboard, then manure, and then compost on top. Solara and her team specifically asked for support hauling wood chips to create pathways between several new rows, and we also tidied up the pathways in more established rows. Witnessing the tangible and immediate results of one's labour is one of the many joys of working in a garden. In addition, this experience of spending time working together in a beautiful, outdoor setting strengthened our bonds of relationship, thereby enhancing our capacity for teamwork. As Solara remarked, "it's wonderful to see people who normally meet via Zoom working together in the garden."
Eating is a Pedagogical Act
Solara is not the first to observe that farming can be a positive learning experience. Canadian scholar Jennifer Sumner (e.g., 2003; 2005a; 2005b; 2008; 2009; 2016) has developed the most direct links between learning and the organic farming movement, claiming first and foremost that "eating is a pedagogical act" (2008, p.1). In her 2008 study of forty-one organic farmers in South-Western Ontario, she came to understand how farmers conceptualise their own knowledge production and meaning-making systems. She analysed findings according to Habermas' (1978) three-fold framework of: empirical-analytic knowledge (related to 'how to' farm, e.g., using a rototiller, crop rotation, Nitrogen fixing, how much space to include between different kinds of seedlings), historical-hermeneutic knowledge (related to meaning and experience, i.e., the 'why' of organic farming such as health and environmental benefits), and critical-emancipatory knowledge (related to the strong environmental consciousness behind the choice to farm organically, better understanding of the dominant agri-food business, and a deeper appreciation of the true cost of food, including treatment of humans and animals, even under the most ethical and caring working conditions). She also documented expressions of farmers' spiritual knowledge gained through farming, which could not be immediately classified within this model.
Experiences of Awe and Beauty
In an earlier publication related to my experiences working on Three Oaks Organic Farm, (Etmanski 2012), I suggested that:
Another element of transformative learning stems from the potential experience of awe derived from working directly with nature. The artist, Paul Cézanne, famously mused that the day is coming when a single carrot, freshly observed, will set off a revolution and I wholeheartedly concur. Debates abound about whether and how, exactly, aesthetic experiences can lead to personal or societal transformation. These debates notwithstanding, through the experience of working on the farm I have come to appreciate that the sheer beauty and vitality of the Earth holds tremendous power and transformative potential. I can distinctly remember my first experience harvesting bunches of radishes. As I rinsed them under the cold-water tap, and their full colour emerged from beneath the dirt, the brightness of their fuchsia skin struck me as profoundly beautiful. From that moment forward, I began to see radishes—and indeed carrots and other plants—in a new light; not only for their beauty, but for their texture, their taste, their unique growing preferences, and the labour involved in planting the seeds, thinning the seedlings, weeding and covering the rows, and harvesting them one by one. This was the first of many profound, sensory experiences—transformative moments that culminated in a deeper appreciation for the beauty of nature, the aesthetics of farming, and for the Earth Mother as a supreme artist.
From Local to Global
Whether we live in the Global South or North, our daily encounters, if we care to notice them, push us up against the limits of an old paradigm of thinking, doing, being, and knowing. Gross injustices within and between countries, over-consumption, toxic waste, and widespread depression and oppression indicate that we must change the fundamental ways we relate to one other and to the Earth if we are to survive as a species. Yet, today's social, environmental, economic, and spiritual challenges have become so deeply interconnected that it can be difficult to find an entry point for addressing any given issue. In this increasingly complex global context, the small, local, open, and globally connected (Manzini, 2011) organic farming movement may represent an interdisciplinary leap into a new paradigm. Its proponents draw clear links from agriculture to physical and psychological health, environmentalism to economics, community development to education, technology to spirituality, and philosophy to action research. As values-based business leaders, farmers are attending to local, grassroots concerns, while simultaneously promoting global democracy and social justice. As a result, the organic farming movement is providing leadership and direction for a new way of existing on this planet.
Inch by inch, row by row, Solara and her team are planting the seeds for a more sustainable, healthy, and socially just future, right here at RRU!
Author Notes
1.  The final three sections of this post have been excerpted from Etmanski (2012). See original for more on transformative learning in organic farming. You can download a copy of this chapter by following the link from the reference list below.
2. Many thanks to Solara and Sherry Richards for their leadership in coordinating SLS' opportunity to work in the RRU Giving Garden, and to Tayler and Tim from Hatchet & Seed www.hatchetnseed.ca for guiding our efforts. If your team or class is interested in volunteering in the garden, please contact Solara.1goldwynn@royalroads.ca 
3. Photo from left to right: Cheryl Heykoop, Lila Linell, Sherry Richards, Steve Miles-Berry, and Niels Agger-Gupta in RRU's Giving Garden. September 28, 2022
References
Etmanski, C. (2012). Inch by inch, row by row: Social movement learning on Three Oaks organic farm. In B. L. Hall, D. E. Clover, J. Crowther, & E. Scandrett (Eds.), Learning and education for a better world: The role of social movements (pp. 155–167). Sense.
Habermas, J. (1978). Knowledge and Human Interests (J. J. Shapiro, Trans.; 2nd ed). Beacon Press. (Original work published 1968)
Manzini, E. (2011). The new way of the future: Small, local, open and connected. 100–105. Social Space. https://ink.library.smu.edu.sg/lien_research/75  
Sumner, J. (2003). Visions of sustainability: Women organic farmers. Canadian Woman Studies 23(1), 146–150.
Sumner, J. (2005a). Small is beautiful: The response of women organic farmers to the crisis in agriculture. Canadian Woman Studies 24(4), 78–84.
Sumner, J. (2005b). Sustainability and the civil commons: Rural communities in the age of globalization. University of Toronto Press.
Sumner, J. (2008). Protecting and promoting Indigenous knowledge: Environmental adult education and organic agriculture. Studies in the Education of Adults 40(2), 207-223.
Sumner, J. (2009). Sustainable horticulture and community development: More than just organic production. Journal of Sustainable Agriculture 33(4), 461–483.
Sumner, J. (Ed.). (2016). Learning, food, and sustainability: sites for resistance and change. Palgrave Macmillan. https://doi.org/10.1057/978-1-137-53904-5
For more on this topic, check out:
Etmanski, C. (2018). Seeds and stories of transformation from the individual to the collective. Journal of Transformative Education 16(2), 151–167. doi.org/10.1177/1541344617696973
Etmanski, C. (2012). A critical race and class analysis of learning in the organic farming movement. Australian Journal of Adult Learning 52(3), 484–506.
Etmanski, C. (2015). Guest editorial: Introduction to adult learning and food. Studies in the Education of Adults 47(2), 120–127.
Etmanski, C. (Ed.) (2017). Food leadership: Leadership and adult learning for global food systems transformation. Sense.
Etmanski, C., & Barss, T. (2011). Making pedagogy explicit in ecological leadership praxis. Action Learning and Action Research Journal, 17(1), 4–36.
Etmanski, C., & Kajzer Mitchell, I. (2017). Adult learning in alternative food networks. New Directions in Adult and Continuing Education, 2017 Spring, 153, 41–52.