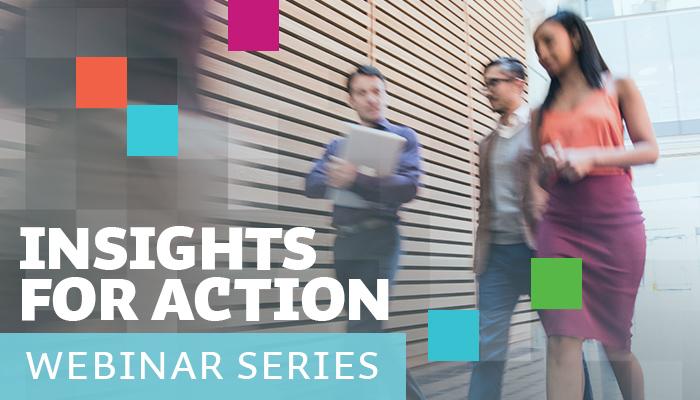 Across sectors, cultivating an innovative and entrepreneurial culture is essential for navigating changes in the workplace and in society. Join us every month for our Insights for Action webinar series where we will collectively explore topics that will inspire insights and guide you towards taking transformative action in your workplace and in your life. 
Watch the webinar recordings
Episode 1: Leading in Conflict and Chaos 
What does leadership look like and feel like as we are confronted with unprecedented personal and professional challenges? What can we do to our leadership capacity in the face of chaos and conflict? On September 29th, Ross Porter and Dr. Patrick O'Neill engaged in an interactive conversation about what it means to access our potential for creativity, compassion and resilience in these unstable and uncertain times. Drawing on insights from behavioural science, wisdom traditions, and experience working with wide cross-section of leaders, Patrick and Ross offered insights that you can use to bring authentic and impactful leadership to your workplace and communities, regardless of your situation or circumstance.
Episode 2: From Global to Local: Risk Management for Managers
The pandemic has highlighted how global risks can quickly become local risks. It has become apparent that in this rapidly changing environment, managers across sectors need to increase their awareness of the global risks associated with factors such as climate change, cyber attacks, social media, and politics. Managers need to be able to assess these risks against their own organization, and have the skills to create plans for mitigation and take necessary action. 
In the second episode of our webinar series, professors Dr. Charles Krusekopf and Brian Parrott explored the key risks that organizations and managers face in our evolving world.
Episode 3: Forging Ahead: Leading with Emotional Intelligence
For the third episode, professors Dr. Carolin Rekar Munro and Ross Porter explored why cultivating emotional intelligence in the workplace has never been more important than now. 
Emotional intelligence (EI) is a signature leadership attribute that strengthens our ability to navigate through crises, whether it be COVID-19 or other significant personal and professional challenges. EI has been identified as more essential than traditional cognitive skills when it comes to our effectiveness in problem-solving and decision-making, developing and sustaining working relationships, and positioning us for success in our careers. However, EI can be somewhat elusive, leaving us with many questions about whether we have EI and what courses of action we can take to build it. In this interactive session, Carolin and Ross shattered myths about EI, examined the building blocks of EI and explored how we can harness EI to forge ahead through crises.
Episode 4: Influencing with Impact: Your Career Accelerator
No matter where you are on your career trajectory, becoming a workplace influencer whose opinions are sought after and who has the ability to shift people's thinking and move them into action can accelerate your career. Like a muscle to be developed, becoming a workplace influencer requires patience, perseverance, and practice in order to navigate the myriad of variables and unpredictable human dynamics in every situation. 
In this interactive session, Dr. Carolin Rekar Munro and host Ross Porter shattered the myths about being a workplace influencer; examined everyday groundwork for earning a reputation as a trusted workplace influencer; unpacked the 3 P's of workplace influencing; and, decoded and respond to common challenges experienced in influence conversations. Watch this recording to gain a toolkit of practices that you can use to chart your pathway to influencing with impact.
Episode 5: The Shared Responsibility of Reconciliation
We are in an era of upheaval and transformation, a soft revolution in not only the acknowledgment of the injustices of colonization but in reconciling those injustices and setting a new table for equality. 
Each of us can play a role in achieving reconciliation by examining what paradigms we hold and how they affect our attitudes and behaviour toward Indigenous people. What actions can we take in our lives and in our work to close the divide between Indigenous and non-Indigenous people? How can we get engaged in collaborative decision-making and inclusion?
In the fifth episode of our series, join professor Dr. Charles Krusekopf and RRU MBA alumni, Dr. Hope Sanderson, and engage in an interactive session. Hope recently completed a research project examining the role of Indigenous governance in solving the water problems on First Nations. In this episode, she explores how her research and lifetime of working to empower Indigenous communities offers a path toward reconciliation that everyone in Canada can join. 
Episode 6: Leading with Trust
Trust is a social lubricant that facilitates healthy relationships and increases organizational efficiency. In today's volatile, unpredictable, complex, and ambiguous (VUCA) world, businesses are required to respond to change more often than ever. When Trust is missing, these efforts can often be stalled, which affects the bottom line. Research has consistently shown that higher Trust levels lead to higher levels of performance, followership and profitability. With higher Trust, a business can react quickly to today's challenges; thereby, offering them a competitive advantage over the company that overlooks this critical competency.
In the sixth episode of the series, professor Dr. Charles Krusekopf and RRU Doctor of Business Administration Student, Mike Atkins will engage you in this interactive session. Mike draws on his research insights to illuminate the benefits and drivers of trust and what individuals and teams can do to build it.
Episode 7: Living, Learning & Earning Longer: Insights from Science
In the seventh episode of our Insights for Action webinar series, professors Dr. Charles Krusekopf and Dr. Kelly Tremblay explored Living, Learning & Earning Longer: Insights from Science. To help optimize the aging journey, Dr. Kelly Tremblay works to bridge the divides between academia, business and culture with science-driven insights that deliver tangible benefits for an aging world.
After tuning in to this session, you'll understand the changing demographics associated with longevity, the shifting landscapes in job growth, benefits that come with older workers, and how to support an aging workforce. 
Please contact us for a recording. 
Episode 8: Creating Systemic Change: Integrating Systems Thinking and Indigenous Wisdom
In the final episode of the season, Patrick O'Neill PhD will present an integrative framework for leading personal and systemic change that blends the science of systems thinking with ancient wisdom traditions to address society's most intractable problems. Patrick will be joined by Harley Crowshoe, a Blackfoot elder originating from the Piikani Nation Reserve in Southern Alberta. Harley will share his unique experiences leading complex systems change by integrating the wisdom of his Blackfoot ancestry, which seeks to connect people to ceremony, story, art, language, and the land. Participants will learn cross-cultural principles and practices they can apply to facilitate change and innovation in their own work, life, and community contexts.  
Watch the webinar recording. We are also pleased to offer this beautiful graphic recording to all participants.
Business programs
Get to know our business programs.