Implementing Cultural Safety in the Evacuee Care System
Featured
Share online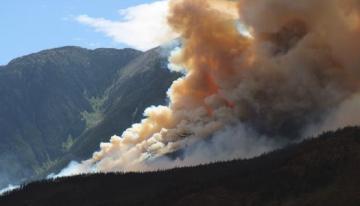 From record-breaking wildfires and flood seasons, to house fires and landslides, the heart of emergency management is BC's Emergency Support Services responders who show up to take care of the people. This program is delivered by First Nations communities and local governments, with support and guidance from Emergency Management BC. ESS responders, the majority of which are volunteers, assist evacuees with food, clothing, shelter and other services that people might need while they are displaced, and their homes are under an evacuation order. In recent years, several reports pointed to the disproportionate impact that emergency events have had on Indigenous communities and called for a reimagining of emergency management services.
MA-Leadership student, Kayla Pepper, the Director of Indigenous Partnerships at Emergency Management BC, says her master's thesis topic took shape when an emergency manager from Musqueam First Nation said to her, "If communities had the ability to continue practicing their culture, even when displaced, imagine how much more resilient they would be?"  Working out how to help implement cultural safety in ESS made perfect sense as a thesis to Kayla. In her 10-years in emergency management with the BC Government and Canadian Red Cross she had connected with hundreds of evacuees or disaster-stricken community members impacted by events. Kayla had seen this issue first-hand and chose to use her time at Royal Roads to connect with Indigenous emergency managers to learn how to make the evacuee care system emotionally, mentally and culturally safer for all.
"Disaster management, like leadership, has no 'one size fits all' approach," says Kayla. "Rather, it's about building a toolbox of wise practices, policies, and guidelines, while still being present, self-aware, responsive, and adaptable to what's required by the current or forecasted situation."
It was clear to Kayla that the processes and guidelines in the ESS toolbox had been designed without input from Indigenous people. So, in partnership with Emergency Management BC and her inquiry team, Kayla engaged 23 Indigenous community and support organization champions through three virtual "Circle Way" sessions, and individual interviews to reimagine ESS in BC. Kayla framed her questions to participants using a strengths-based, appreciative approach. In response, participants generated ideas for systems changes by reflecting on how evacuations might be done by accompanying Indigenous evacuees in ways that honour traditional knowledge and all aspects of the self (mental, physical, emotional, spiritual, and cultural)."
Together, the participants in Kayla's inquiry (many of whom have personally been evacuees) defined "cultural safety" in the context of ESS:
Cultural safety is defined as creating safe spaces, free from discrimination, where Indigenous people, families and communities can continue practicing their culture even when displaced. ESS practitioners accompany evacuees with humility, open listening, kindness, compassion, respect, and consideration for themselves and others' mental, emotional, physical, spiritual, and cultural well-being.
Kayla says that caring for people in a crisis is inherently relational and makes strong linkages between "cultural safety" and new ideas about "leadership," since both concepts are about "creating safe spaces for engagement, free from discrimination." Kayla offers the idea that leadership encourages respect for multiple truths and ways of knowing and opening space for cultural safety is essential to creating a shared vision.
Kayla says her experience in the MA-Leadership program helped her not only research and practice cultural safety in her work with ESS, but, as she says, "helped me unpack my positionality as a researcher, as a leader, an emergency manager, a public servant, and as a woman of settler-descent living on the unceded territory of Tk'emlups te Secwepemc people. As a non-Indigenous researcher working in the space of cultural safety, this project was also a learning journey of allyship and unpacking my privileges and blind spots. As I continue to support systems change in this field of practice, I've learned that leadership and caring for evacuees is, more than anything, about accompaniment—learning and walking (or sometimes stumbling) along with each other towards a better tomorrow."
For more information contact:
Kayla Pepper
Kayla.c.pepper@gmail.com
https://www.linkedin.com/in/kayla-pepper/