Featured
Share online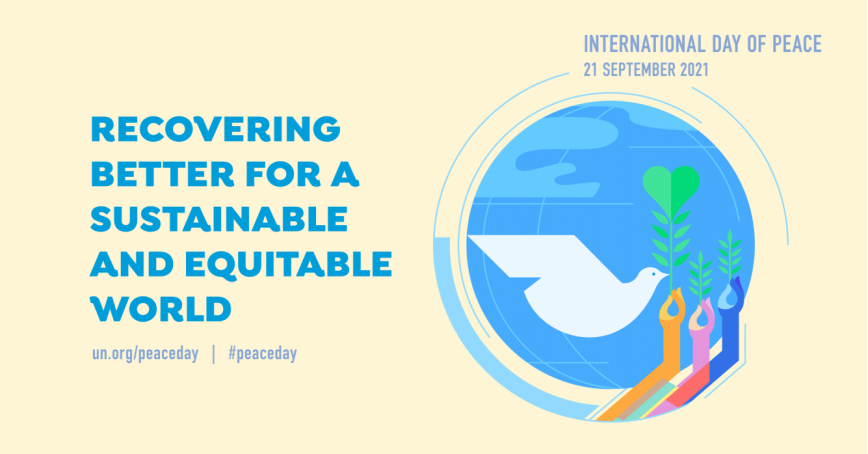 -
Timezone: PDT
Webinar
Online
Each year the International Day of Peace is observed around the world on 21 September. The UN General Assembly has declared this as a day devoted to strengthening the ideals of peace through observing 24 hours of non-violence and cease-fire.
This year's theme is "Recovering better for an equitable and sustainable world."
Recovery efforts offer an opportunity to transform our relationship with our planet and our environment. Peace is foundational to recovery as global vaccination efforts cannot advance amidst armed conflict. Nor can we build a sustainable, resilient, peaceful world while we are at war with nature.
In this virtual dialogue, we will discuss standing up against hatred and discrimination, caring for the planet, global solidarity and vaccination equity, all areas critical to "just recovery" from the COVID-19 pandemic, reimagining a better future for people and the planet.
Meet our panel,
Rhett Reikoff, alumni of the Master of Arts in Environmental Management, will explore caring for the planet and making peace with nature through the context of Fairy Creek's old-growth logging protests.

Kenny Panza, alumni of the Master of Arts in Human Security and Peacebuilding, will explore 

environmental racism - interplay between racial and environmental injustice.

Adam Houston, associate faculty within the School of Humanitarian Studies, will explore vaccine equity and Canada's inaction on the TRIPS waiver.

Jennifer Arp, alumni for the Master of Arts in Intercultural and International Communication, will explore mobilizing at the community level to sustain peaceful action and solidarity.
We encourage you to register even if you are unable to attend. Everyone who registers will receive a link to the webinar recording.
Thank you to the Human Security and Peacebuilding program area for sponsoring this virtual dialogue. 
Register