Celebrating 2023 MA in Global Leadership (MAGL) Program Graduates
Featured
Share online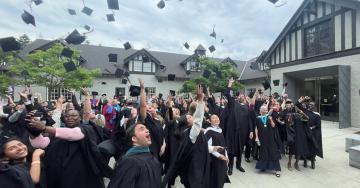 RRU, the School of Leadership, and the MAGL program celebrate graduates in Spring and in the Fall who have just completed what many will share is often a challenging and life-changing journey. For these graduates, however, it is no ordinary convocation. While these graduates have worked extremely hard to complete their rigorous programs, they have earned being acknowledged as true leaders in global leadership for several reasons. 
2023 MAGL graduates will be able to look back at this phase they shared together as a significant time in history. They could not have had more opportunities in such a setting to experience navigating local to global systems. They practiced working with systems thinking and approaches, through differential impacts of the global crisis, through its unexpected curve balls, and finding ways to innovate. COVID-19 presented accelerated learning. 
It's not just systems thinking and approaches acumen that they have gained studying at such an unprecedented time. It's complexity thinking, adaptability, and resiliency. At times, we revisit our pedagogy and understanding of how to develop such core global leadership competencies. Witnessing the tremendous growth of each of the MAGL students, I am confident that the experiences of this time of upheaval have supported their classroom learning around these, magnificently. 
Significant is how they applied their learnings and competencies towards the end of their journey to their capstones and internship projects. Courageously and with a deep commitment to something larger than themselves. At convocation and later in the evening on Convocation Day, many shared what they navigated and did emergently around sometimes seemingly insurmountable roadblocks in creating change through their projects. Hearing these, one couldn't be more full and inspired – they reminded me what a group of global leaders can do to make this world a better place. 
In our ongoing celebration, a few highlights of MAGL graduates' achievements:
Crista Valentino, for the Chancellor's Award
Lynn Marie Weaver, for the Founder's Award and Eve's Global Leadership Learner Award
The university presents the Royal Roads Chancellor's Award to graduates who achieved the highest academic performance in their undergraduate or graduate program. The Royal Roads Founders' Award is a student nominated award presented to a student or a small collective of students in each graduating cohort of a degree program for exemplifying the qualities of leadership, commitment to sustainability, positive and proactive work in equity, diversity and inclusion, and personal growth. Eve's Global Leadership Learner Award has been established to recognize a Master of Arts in Global Leadership students who is nominated by fellow students and who has made outstanding contributions to the learning journey of fellow classmates during their time at Royal Roads University. 
These graduates also nominated our first Eve's Leadership Teaching Award to MAGL faculty Rebeccah Nelems.  This award celebrates a student nominated faculty who has made significant contributions to the learning experiences of MA in Global Leadership students, deepening the learning of global leadership competencies. Eve was a student in the first cohort of the Master of Arts in Leadership and Training program, established at Royal Roads in 1996. This program, and the people involved in all aspects of it, informed and inspired the trajectory of her life. May it do so for others.
Real-world global leadership and inspiration are gifted to us by all those who complete, among those who could be in person or not.  This includes those whose completions have been postponed while working on complex global issues. We hope that those who wished to join the in-person graduating group also hold their collective journeys and real-world impacts as inspiration for their ongoing work and for all the work in the world, locally, and further away. The world needs these beautiful beacons whenever they join together and wherever they are on their journey. We hold our hands up high in gratitude and celebration.