Are you ready?
RRU isn't for everyone. We're for the motivated, the endlessly ambitious and the continuously improving. We're not a school for coasting, but a school for challenging — the status quo, the traditional way of doing things, the expected way of thinking, but, most importantly, we're a place for challenging yourself.
Embrace your ambition by tackling today's issues with classmates who share your drive to make a difference. With our flexible online approach to education, taking the next step doesn't mean starting over. It means building on your experience and creating a curriculum that's tailored to your interests and ambitions.
Are you ready to supercharge your career? Are you ready to make a real impact? Are you ready to learn tomorrow's skills today?
Good, because we are too.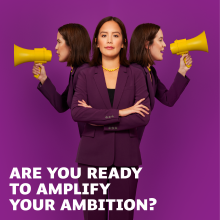 Take the next step