THE BEAUTIFUL POWER OF CONNECTIONS AND STORIES THAT IS PRIMETOWN
Featured
Share online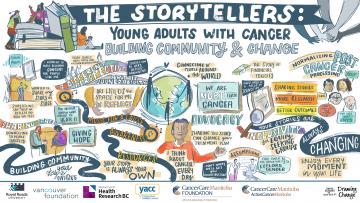 From June 2-4, 2022, nearly 800 young adults (aged 18-39ish) with lived experience of cancer, their healthcare providers, families, supporters and others dedicated to supporting young adults with cancer, connected at Primetown, Young Adult Cancer Canada's (YACC's) annual Cancer Summit. Primetown offered meaningful opportunities to build connections, share stories, identify opportunities for change, and integrate research in supportive and powerful ways.
Our research team, led by Dr. Cheryl Heykoop, Program Head of the Master of Arts of Leadership – Health Specialization, was actively engaged in Primetown. And through our incredible partnership with YACC, we had the opportunity to embed three distinct, yet interrelated research activities throughout the event to gain insight and explore ideas to improve the experiences of young adults with cancer.
First, we enabled graphic recording of two panel discussions including Supporting 2SLGBTQIA+ Young Adults with Cancer and The Storytellers: Young Adults with Cancer Building Community & Change. These graphic recordings helped to synthesize the dialogue in real-time and identify opportunities to visualize big, impactful systems change. The graphic recordings also serve as inspiring discussion summaries that will help guide knowledge translation strategies and tactics going forward with young adults and cancer care allies. A big shout out to Erica Bota and Drawing Change for capturing these graphic recordings!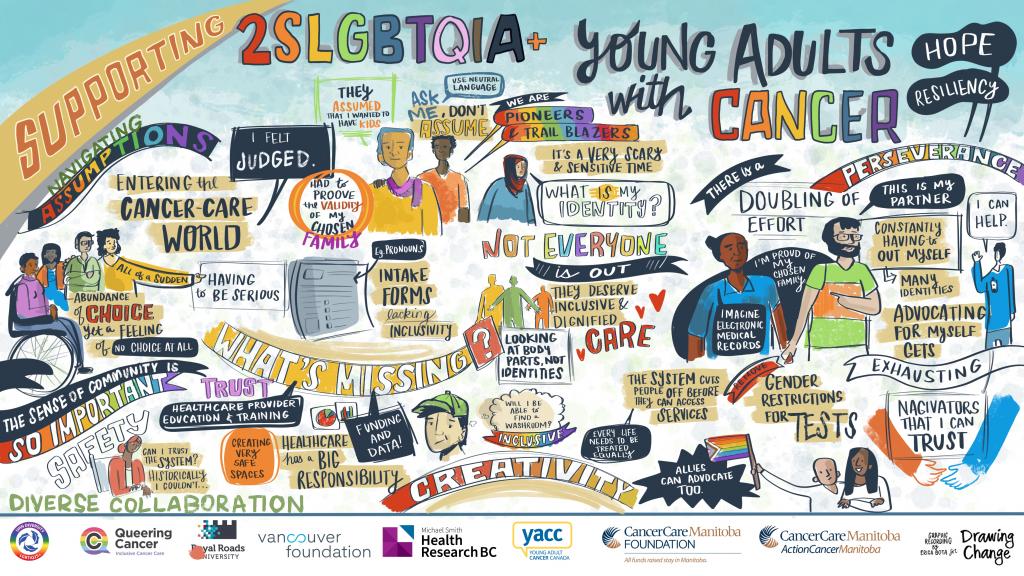 We also hosted a virtual whiteboard, using Miro software, which enabled participants to asynchronously respond to the question "What's one thing you want people to know about young adult cancer?" using virtual sticky notes. As the Summit neared closing, we identified key themes amongst the responses, such as the need for long-term support for young adults with cancer, the power of language to empower or disempower patients, and the challenge for caregivers to prioritize self-care to name but a few. We are excited about the possibility to continue to build from this work and facilitate more asynchronous sessions in the future.
Lastly, we facilitated a 90-minute session entitled Re-Imagining Young Adult Cancer Care which attracted 49 participants (including the facilitation team) who took part in focussed small group discussions exploring ideal, yet realistic, visions for young adult cancer. The essence of these conversations were then shared in plenary and will inform subsequent dialogues with young adults, care providers, and supporters to explore how to bring these visions to reality. A special shout out to Jennifer, Lily, Ada, Param, Karine, Dani, and all of the YACC volunteers for bringing session to life!
In short, the Primetown experience was amazing and offered tangible ways to embed research to better understand young adult cancer and inspire movement towards action. We are deeply grateful to YACC for these opportunities and look forward to our continued partnership, and to integrating and sharing our learnings widely.
Dr. Heykoop's research program focused on transforming cancer care for adolescents and young adults is currently funded by a Michael Smith Health Research BC Scholar Award, a Vancouver Foundation Participatory Action Research Grant, and a Michael Smith Health Research BC Convening and Collaborating Award.  
For more information on our research program or to get involved contact Dr. Cheryl Heykoop at Cheryl.1heykoop@royalroads.ca or Jennifer Wolfe, Research Program Coordinator, at jennifer.3wofe@royalroads.ca.