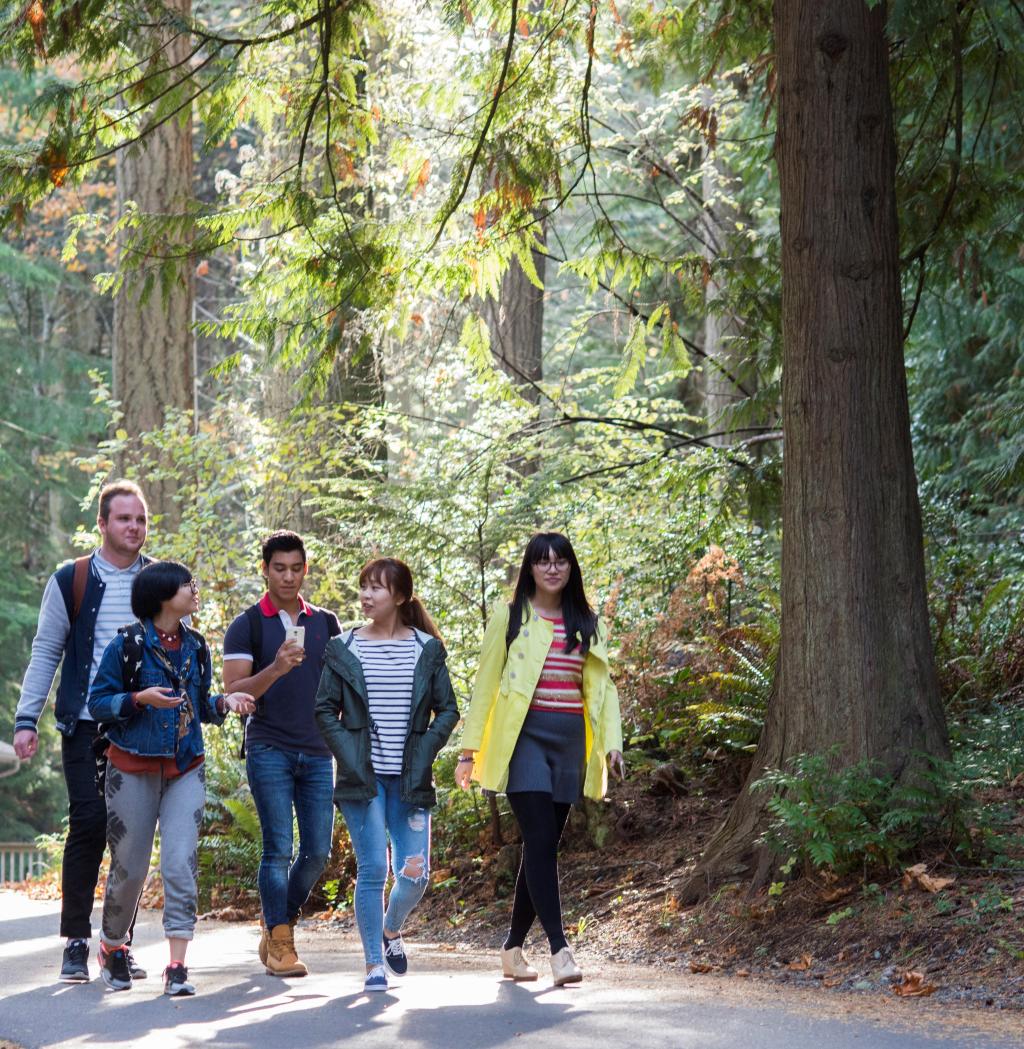 Relationship to the land and one another
Royal Roads campus is located on the traditional Lands of the Lekwungen-speaking Peoples, the Songhees and Esquimalt First Nations.
We are committed to treating the land and one another with humility, kindness, gratitude and respect. Protecting the campus's ecological, cultural and historical integrity is essential to the university's stewardship responsibilities, and to the well-being of the entire community.
Sustainability and Regeneration
Regenerative sustainability is about creating positive and lasting benefits to human and ecological systems. The concept goes beyond just reducing harm or reversing damage, to recognizing a fundamental interdependence among all beings and systems on Earth. It strives to foster vital connections and relationships to one another and to place. Regenerative sustainability is about putting life at the centre of every action and decision. It is rooted in the notion of procedural sustainability—sustained dialogue, reflection, feedback and continual improvement processes, collaboration, compassion, kindness and love.
At RRU, a presidential advisory committee has been formed, chaired by Professor Ann Dale, to explore the ways we can integrate regenerative sustainability into teaching and learning, programming and throughout the campus. For a deeper dive, check out this playlist of videos about regenerative sustainability. 
Examples of Regenerative Sustainability at RRU
Interactive Campus Biodiversity Map
RRU undergraduate science students mapped the biodiversity of RRU's campus. The interactive map shows ecosystems, trails, plants, birds, fungi, insects, mollusks, mammals and reptiles on the Royal Roads campus. RRU is one of the first universities to create such a map. This project reconnects knowledge and place which is fundamental to regenerative sustainability.
The Kitchen Garden
RRU's vision is one of food-forward leadership through small-scale food production systems that contributes to increased food security. Rooted in the principles of regenerative agriculture, Indigenous practices, and community building, the RRU Garden integrates with educational programs, research and operations at the university. In its first year of operation, it donated 100 pounds of food to regional programs. Now in its second year, The Farm offers a living lab through which we decolonize curriculum and further RRU's climate goals.
School of Environment and Sustainability (SES)
The School of Environment and Sustainability integrates a strong focus on regenerative principles in its programs, such as throughout the curriculum of the Master of Arts in Environmental Education and Communication Program and the new certificate course in Regenerative Sustainable Community Development being offered in the next year.  
The Master of Arts and Master of Science programs in Environmental Management (MEM) include the latest research and thinking about regenerative sustainability, with an applied focus on regenerative solutions. The third residency has been redesigned as a Living Lab, developing action plans for real-world solutions. Living labs emphasize the importance of the reconciliation of place and regeneration by encouraging students to develop action plans for the campus around their chosen research topics. The following action plans are examples developed by the third year MEM students as part of their third residency.
RRU Biodiversity Stewardship
Invasive Species Action Plan
Bird-friendly campus
Water stewardship
--- 
There are so many ways to participate in RRU's connection to regenerative principles. Whether you're interested in getting involved or learning more in our courses or programs, we hope you'll join the growing effort to go beyond doing no harm, to doing more good.