Student Research Feature: Suzette O'Byrne
Featured
Share online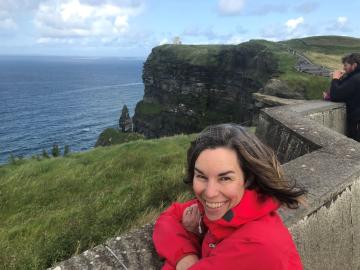 The School of Leadership Studies would like to extend our heartfelt congratulations to Suzette O'Byrne on the completion of a Master's Thesis titled, Advancing Membership Engagement in the Sport and Recreation Industry Using Social Relationships.
This thesis is available through RRU's library here.
We asked Suzette a few questions about this research and this is what they said:
What are some key takeaways from your thesis that would be helpful for other leaders?
My key takeaway was that this process was an achievable challenge that is worth it. I would describe it as an interval workout. Prepare to sprint and then rest and then sprint and then wait and repeat.
My tips for writing are that an editor is an extremely valuable resource and when you are stuck, play a fun playlist, and use the internet for that right word to get you back on track.
Lastly, know that your supervisor is there in your corner cheering you on and ready to step in and help when you need them to.
How is the organization moving change forward based on your work?
The Glencoe Club has incorporated social relationship initiatives to advance membership engagement through member experiences such as a whole club fun competition, employee training, member safety initiative education and complimentary instruction and events. Further initiatives include defining employee roles and responsibilities to address new member integration and the development of the intraclub program.
This project created an understanding of the role social relationships plays in membership engagement at a private sport and social club. If implemented, the recommendations will support The Glencoe Club leadership to deepen meaningful connections and strengthen membership engagement.
What surprised you about your experience of the thesis process?
I found the process of research incredibly interesting and useful in my leadership journey as a whole. From choosing a methodology and method that aligned with my research goals to data collection and analysis and how I incorporated an inquiry team all exceeded my expectations as to how enjoyable they were. It was interesting for me to step back for a moment and realize what I was doing and how engaging, rewarding and revealing it was for my participants, team, organization, and myself.
How are you applying lessons learned from your whole MA-Leadership journey?
Now that I am done and have exhaled, I am able to look back on it and realize how much it helped me to shape my leadership, inform my team's direction, deepen my understanding on the research/focus group process and thus how to work with groups to gain feedback, consensus, information and achieve a common goal. I provided myself some personal direction but probably most important, provided some confidence in abilities and areas to explore moving forward. I know how I can leave a legacy and how to best lead into the next chapter in my story.