Student Research Feature: Nicki Ranger
Featured
Share online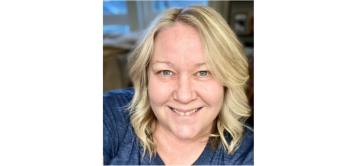 The School of Leadership Studies would like to extend our heartfelt congratulations to Nicki Ranger on the completion of a Master's Thesis titled, Preparing for Success: Social Worker Experiences in Remote and Rural Communities in British Columbia.
This thesis is available through RRU's library here.
We asked Nicki a few questions about this research and this is what they said:
What are some key takeaways from your thesis that would be helpful for other leaders?
A key takeaway from my research is that rural and remote community work is truly unique! Employees who both live and work in remote and rural communities experience a number of challenges that their more urban counterparts do not experience. This is even more pronounced in professionally challenging roles like child welfare. When organizations do not adequately prepare their workforce for these unique challenges, recruitment, retention and ultimately service delivery, are negatively impacted. My research can help organizations in remote and rural areas to better prepare and support their employees by understanding the ways in which this important work is different. Remote and rural communities have so much to offer and are beautiful places to live and grow a career. With the right preparation and support, organizations can ensure their remote and rural employees enjoy personal and professional wellness long term. 
How is the organization moving change forward based on your work?
During the course of my research and thesis completion, I chose to leave my long term  employment with my partner organization. I was fortunate to continue my thesis to completion as an outsider researcher. Although I am no longer intimately connected to the direction my partner organization is going these days, they were keenly interested in listening to and learning from the findings and the recommendations of my research to see how they could address their ongoing struggles in their remote and rural offices. 
What surprised you about your experience of the thesis process?
Honestly, the thesis process was more challenging than I expected. For me, it was definitely more of a marathon, than a sprint! I underestimated how difficult it would be to balance my family of 6 while living in a remote and rural community with my full time job and a transition to a new job while conducting graduate research  - and all during a pandemic! It was so worth the journey, and I am glad I stuck with it. 
How are you applying lessons learned from your whole MA-Leadership journey?
This MA leadership journey has given me the confidence to shift my focus from being simply a supervisor to being a leader. I have always had a passion for supporting people to be their best, but now I have really developed a passion for organizations to be their best. In my new role, the learnings from the MAL program have been invaluable. Through conducting my research, I have gained expertise in a field I care deeply about and through this journey, have begun my own odyssey to be a more authentic and visionary leader. The best is yet to come!