Featured
Share online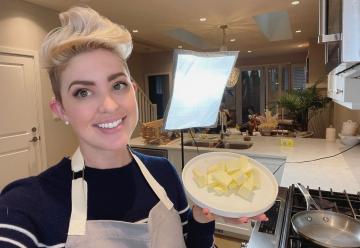 The School of Leadership Studies would like to extend our heartfelt congratulations to Jessica Havens on the completion of a Master's Thesis titled, Talking Each Other Home: Leadership and Cultural Safety in Medical Assistance in Dying.
This thesis is available through RRU's library here.
We asked Jessica a few questions about this research and this is what they said:
What are some key takeaways from your thesis that would be helpful for other leaders?
1. Meaningful change on the path to Reconciliation begins with individuals committing to their relationships and accountability. 
2. Listen to others actively, with intention, and be mindful of how you might be listening to confirm your own ideas or biases.
3. "Healing isn't linear". As you learn and grow as a leader, you will stumble. Be willing to explore your 'failures' for lessons, implement what you have learned, and move forward.
How is the organization moving change forward based on your work?
Talking Each Other Home was a First-Person Action Research project, meaning my goal was to examine my own thoughts and actions in order to determine how I might be a more culturally safe leader.  I have published the journaling template I used online at https://www.culturalsafetyinmaid.com/module, so other leaders can engage in the same reflective process I did and incorporate more culturally safe practices into their own leadership. Within my role, I continue to advocate for diversity-oriented hiring practices, inclusion of Indigenous leadership and individuals in healthcare project work, and ongoing cultural education for staff.
What surprised you about your experience of the thesis process?
I knew going into my thesis that storytelling was powerful, but what I did not realize was how relational storytelling is, or how many ways there are to connect with our stories. My research involved a conversational exchange called "talking story", writing and drawing the experiences of my day (my story) in a journal, and baking, which physically connected me to the stories of my childhood. I have developed a much deeper appreciation for non-traditional research methods, and I hope to see other leaders push themselves to explore these methods in the future.
How are you applying lessons learned from your whole MA-Leadership journey?
I am committed to finding ways to connect with others, and to finding ways to learn about myself and others immersively (experientially, rather than passively). I use both the interaction and the learning experiences to challenge my worldview, to share what I have learned with others, and to encourage myself to try new things. Thanks to my RRU MA-Leadership experience, my leadership practice has evolved to become more holistic than prescriptive. I have become more flexible, more forgiving, and less afraid to fail.