Featured
Share online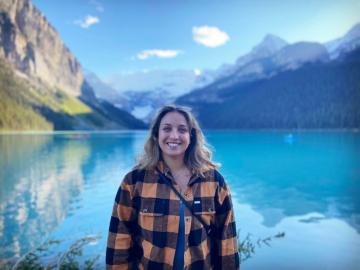 The School of Leadership Studies would like to extend our heartfelt congratulations to Chelsea Brookes on the completion of a Master's Thesis titled, Fostering Thompson Region Primary Care Provider Leadership.
This thesis is available through RRU's library here.
We asked Chelsea a few questions about this research, and this is what they said:
What are some key takeaways from your thesis that would be helpful for other leaders?
Leadership development is an ongoing process, and we learn to be leaders in different ways. The MA-Leadership program was an opportunity for formal leadership development, but we also learn through informal and experiential opportunities. Since researching leadership development, I've been reflecting on the experiences I have had that encouraged my leadership or where I practiced leadership. My research was focused on physician and nurse practitioner leadership but I believe this takeaway is applicable to most leaders.
How is the organization moving change forward based on your work?
My research with the Thompson Region Division of Family Practice (TRDFP) explored how the organization can better foster primary care provider leadership during extreme weather events such as wildfire and flood. Key stakeholders validated the recommendations and identified two immediate priorities. The TRDFP is supporting providers to develop emergency preparedness and response plans for their clinics. The organization also committed to creating a communications strategy to educate and engage providers about the importance of preparedness, their leadership, and share lessons learned.
What surprised you about your experience of the thesis process?
I interviewed rural practicing primary care providers about their experiences being displaced due to extreme weather events. I was surprised by how concerns about their patients influenced their leadership experiences. In hindsight, this makes sense for health professionals who provide primary care. However, as my interactions with primary care providers are more operational and removed from patient care, this was surprising at the time and was a good reminder for me that health care must be patient-centered.
How are you applying lessons learned from your whole MA-Leadership journey?
Now that I've had some time to reflect on the journey, I can look back on how much my leadership has been shaped over the past two years. I've observed changes in my interactions with others at work and received positive comments about my professional growth. The importance of collaboration has been reinforced. I am also trying to honour my values and be curious and kind as my leadership journey continues.