Featured
Share online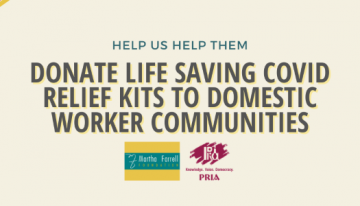 GRASSROOTS LEADERS SUPPORTING FEMALE DOMESTIC WORKERS DURING THE COVID-19 CRISIS
Now, in the era of the virus, a poor person's sickness can affect a wealthy society's health. ~Arundhati Roy
As the devastating news pours in from India, many of us are wondering what we can do to support. In this blog post, we feature the work of the School of Leadership Studies' partners in India, Dr. Nandita Bhatt of the Martha Farrell Foundation (MFF) and Dr. Rajesh Tandon of the Society for Participatory Research in Asia (PRIA). They are leading efforts in the Delhi area to support female domestic workers and their families who are severely impacted by the soaring COVID-19 case numbers and lock down measures.
Why the focus on female domestic workers?
Creating safe workplaces is priority area for the Martha Farrell Foundation (MFF). We support organizations in enabling safe and dignified workplaces, by helping them meaningfully comply with the 2013 Sexual Harassment of Women at Workplace Act (Prevention, Prohibition, Redressal). We provide solutions that transform compliance into an engaging learning experience, to ensure a long-term impact.
In collaboration with MFF, female domestic workers have been mobilizing to put an end to instances of violence, including sexual violence, dismissed reports of violence, and even murder—by their employers, security guards, police, taxi/rickshaw drivers, and other bystanders. Learn more in this video.
As the global pandemic has taught us, those who are already on the margins of society are at increased risk, not only of contracting COVID-19, but also of further marginalization through economic hardship, low literacy rates, and limited access to health care.
The current lock down measures in place to prevent the spread of COVID-19 mean that domestic workers cannot enter their employers' homes or are restricted from traveling to their places of work. There is no social safety net in place to support domestic workers during this time of great need.
Why the Martha Farrell Foundation?
Dr. Martha Farrell was a passionate global civil society leader, respected in India and around the world for her work on women's rights, gender equality, and adult education. In 2014, she published a book based on her doctoral studies titled, Engendering the Workplace: Gender Discrimination & Prevention of Sexual harassment in Organizations. In 2015, she lost her life while fighting for women's rights in Afghanistan. The Martha Farrell Foundation was set up to honour her legacy and continue her good work for generations to come. Read more about Martha's life here.
What are MFF and PRIA doing to support domestic workers during the pandemic?
Right now, MFF and PRIA have staff on the ground distributing COVID kits to domestic workers and their families. One COVID kit is intended to support a family for three months. It contains masks, soap, sanitary pads, and a ration of dry food. To date, we have reached over 300 families. Our goal is to reach 3,500 more by activating an extensive network of community leaders, local animators, and partners.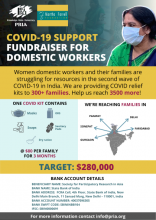 What can you do to help?
Learn more about sexual harassment in the workplace—how it affects domestic workers in India during the pandemic and how it affects others around the world. See links below as a starting point.
Talk about these issues in your family and community or share this post in your network.
For those in a position to do so, you can also make a charitable donation to support domestic workers by visiting the Canadian arm of the Martha Farrell Foundation (see the Canada Helps link in the top right corner), an initiative by friends of Martha in Canada.
As Arundhadi Roy wrote at the onset of the pandemic, "historically, pandemics have forced humans to break with the past and imagine their world anew. This one is no different. It is a portal, a gateway between one world and the next." Let's stand in solidarity to support basic dignity, send a message that the world cares about these women, and take a small step in imagining how a better world is possible.
For more information, the following blog posts and reports from the field provide a background on domestic workers' experiences during the pandemic:
Are we invisible? Domestic Worker Anjuman Bibi asks, in light of lockdown
Gulista throws a light on the quarantine's toll on girls
Woman Sarpanch Sunita reports on combatting COVID as a community
Domestic Worker Ruhima Bibi reports from Burdwan about her COVID challenges
Bent but not broken: How rural India copes with COVID
Domestic Worker and community leader Sarita applies a gender lens to COVID-19
My Life as an Informal Migrant Worker during the COVID-19 Pandemic: A Participatory Research by Domestic Workers' Action Network
For more on Arundhati Roy's perspective, see also:
Roy, A. (2021, April 28). 'We are witnessing a crime against humanity'. The Guardian. https://www.theguardian.com/news/2021/apr/28/crime-against-humanity-arundhati-roy-india-covid-catastrophe