Effecting Change on Issues of Race, Power, and Privilege
Share online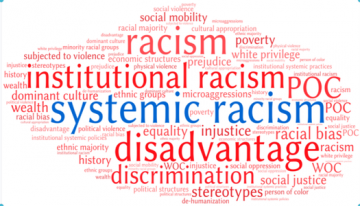 The incidents of police brutality and racialized violence that took place in the United States in recent weeks have marked a dramatic societal awakening around systemic racial inequity. There is now global attention to anti-black racism and the Black Lives Matter movement in ways we have not seen in a very long time. Yet, how can we keep this conversation alive when it is no longer trending in the media? How can we continue to take actions in our families, workplaces, and communities to dismantle and change systems that hurt racialized people?
Higher Education & Engagement with Race and Privilege
Universities and colleges play an integral role in effecting change. They represent spaces where we can dream up, articulate, and share new possibilities for our collective future. Universities and colleges have a responsibility to speak to issues of race, power and privilege and model a better way forward for students, faculty, and society writ large.  Disappointingly, The Equity Myth, a nation-wide study of race and equity in Canadian universities, identifies that the same societal patterns of power, privilege and racial inequities exist on our campuses. It is time for us to step forward, step up, and take actions for change.
To do so requires us to be aware of how issues of race, power, and privilege show up within higher education. However, we currently have a limited picture of the racial inequities on Canadian campuses. My MA research explored engagement with race and privilege in higher education and highlighted three realities alive on campuses today which limit our ability to act meaningfully. First, the topic of race/racism is often superficially engaged with and sometimes avoided altogether. Second, very few institutions gather meaningful data about the lived experiences of their racialized students, staff and faculty. Third, experiences of racism are often recorded as isolated anecdotes or incidents, with little to no formal structures to investigate if/how these experiences permeate the culture of the institution. To effectively respond, it is imperative that we understand the realities of racism in Canadian higher education as completely as possible. 
Four Actions to Begin to Make Change
Here are four actions grounded in my research that leaders, in higher education and beyond, can take to begin to make a change.
Engage racialized members of our communities to gather data and document stories to understand their lived realities. Ask questions about the impact of existing policies, strategic frameworks, and programs and implement recommendations for change. 
Be explicit about our commitment to equity and anti-racism and establish accountability structures and mechanisms to tangibly assess this commitment on an ongoing and regular basis. For example, embed equity competencies in hiring and performance matrices to signal an expectation that staff and faculty actively develop their knowledge, understanding and practice of racial equity. 
Integrate content about racism, power, privilege and oppression into curricula - not just a unit or reading but throughout entire courses and degree programs.
Engage in transformative learning experiences that enhance lived understandings of racism, power, privilege and oppression for staff, students, faculty, and society writ large. 
We all have a role to play to address the inequity facing racialized staff, faculty and students. We must come together, regardless of the discomfort, and act. The time is now.
Bios
Tiffany Mintah
Tiffany is a Black Canadian woman and alumni of the RRU Masters of Arts in Leadership program. Her MA research focused on engagement with race and privilege on university campuses in Canada. Tiffany works as Associate Director of Strategic Initiatives with Student Housing at the University of British Columbia. She is a new mother to a 6-month old son.
Cheryl Heykoop
Cheryl is an Assistant Professor in the School of Leadership Studies and a Program Head of the Master of Arts in Leadership program. She was Tiffany's thesis supervisor and is an ally, mentee, collaborator, and friend. She is a new mother to a 5-month old son.
References
Henry, F., Enakshi, D., James, C., Kobayashi, A., Li, P. S., Ramos, H., & Smith, M. (2017). The equity myth: Racialization and Indigeneity at Canadian universities. Vancouver: UBC Press.
Mintah, T. (2019). Residence Life Managers' Engagement with Race and Privilege (Unpublished master's thesis). Royal Roads University, Victoria, British Columbia, Canada.