BBA in Innovation & Sustainability-Inspiring life-changing experiences
Featured
Share online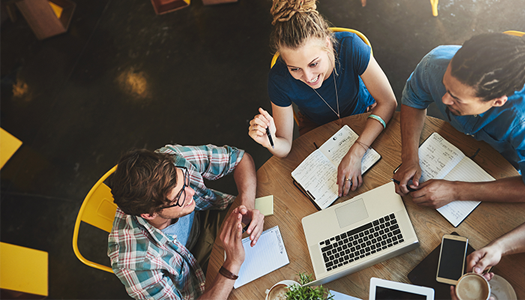 We've all heard it, and maybe you've even said it yourself: "I can't get a job without work experience, but I can't get work experience until I get a job!" The Royal Roads Bachelor of Business Administration (BBA) in Innovation and Sustainability is an opportunity for students to gain job-relevant experience – starting in term one. While this job experience is important for obvious reasons, students who journey through the BBA will also see the impact of sustainable business practices and the important role they can play in making organizations and society better. These are the ingredients of a life-changing, and even world-changing, education experience.
Projects with potential
While more and more post-secondary business programs are incorporating experiential education opportunities – such as simulations, internships, and client projects or live case studies – they often do so as an add-on to classroom-based coursework that focuses on one subject area at a time. The Royal Roads BBA in Innovation and Sustainability is distinctive, featuring client-based projects as the main learning mode every term over the 16 months of the program. And every project will provide a public benefit. Students can see in real time how concepts and principles from a variety of subject areas intersect and apply to the projects they are working on – just like they will do on the job. And applying what they are learning to a wide variety of project types will help them develop the skills employers are looking for and that define the future of work: skills like critical thinking, adaptability, trans-disciplinarity, new media literacy, creativity and design, and social intelligence.
BBA alumnus, Luiz Alberto de Souza, credits working on projects right from the start of the BBA program with helping him understand the immediate impact of what he and his classmates were learning. "You know [company]? We actually helped them with that project!" At the same time, he was able to envision the kind of work he could be doing in the future and to instantly appreciate how the knowledge and skills he was developing in each project were an investment in his future. "You're getting real work experience while still in school," he says.
In the program, students cultivate their own potential, but are also inspired when they witness firsthand the impact of business innovation for greater sustainability – they can see how traditional business models can be reimagined to drive meaningful environmental and social change. While this kind of changemaking can seem intimidating at first, students learn practical approaches to tackle problems. When he entered the program, Luiz had often heard that addressing economic and social challenges meant having to "tear down the existing systems" – a daunting prospect. Instead, he saw what existing organizations can accomplish: "There are simple things that can make a big difference."
A network of relationships
Over the 16 months of the BBA program, students engage with clients, client stakeholders, faculty – and of course, their peers. On both a smaller and larger scale, project-based learning highlights the interdependence of both individuals and organizations in creating real change. An emphasis on teamwork and a small cohort of students that journey together through the whole program fosters insight into the power of collaboration, but also the kind of connections and friendships that endure beyond the program. Luiz values what he learned about himself and others through this process: "I was able to understand where I was effective on a team. The best part was developing self-awareness, and better perceiving others." Teams grow to understand and coordinate their complementary skills and perspectives, while fostering collective trust – all supported by faculty project facilitators who coach the teams through every project.
The series of projects featured in the program exposes students to government, not-for-profit, and for-profit organizations, multiple industry sectors, and a breadth of functional areas. This situates each project within the larger systems of the organization, stakeholder community, region, and even global context – making it possible to see how local interventions can have wider implications. Practically speaking, the variety of projects students work on makes them more versatile in the workplace. Luiz notes: "I know something about a lot of different industries, and I feel ready to engage with any department in an organization." Students can develop confidence in their ability to manage their careers while finding their unique place in the world.
Experience It for yourself
Is this program a fit for you and your goals? The Royal Roads BBA in Innovation and Sustainability is a 16-month, full-time, on-campus degree completion program. It is designed for students who are committed to financially, socially, and environmentally sustainable enterprise – students who want to impact the local and global community while they develop career-ready knowledge, skills, and a portfolio of hands-on experience. When asked what he would say to students considering joining the BBA program, Luiz says: "Do it. It can change your perspective of your own path and what business can do. We can do business without compromising our future."
To learn more about the BBA in Innovation and Sustainability, tune in for our webinar The BBA Experience: Project-based Learning on February 3rd. You'll hear first-hand experiences from BBA students, including what organizations and businesses they get to work with, what they're learning in the program, and the skills they're developing.