Featured
Share online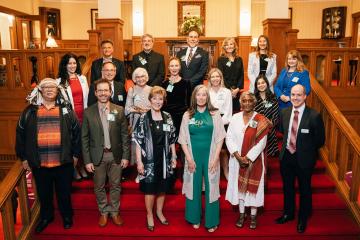 Front row, left to right 3rd, Mary-Anne Niel; second row left to right 4th, Emile de Rossenroll
Royal Roads University representatives celebrated with Leadership Victoria, and several guests, the eleven winners of the 2022 Victoria Community Leadership Awards at Government House on Friday, May 26th. The VCLA recipients are dedicated leaders in their areas of expertise and passionate about improving conditions in their communities. RRU is one of the sponsors and aspiring to create an environment for the academic and wider community to exercise care, courage, and creativity. It is important to acknowledge where these values are embraced in our wider community and exemplified through leadership. Among the accomplished winners of the 2022 VCLA is Associate Faculty at RRU, Mary-Anne Neal, celebrated in the Lifelong Learning category. RRU sponsored Emilie de Rosenroll in the category of Belonging & Engagement.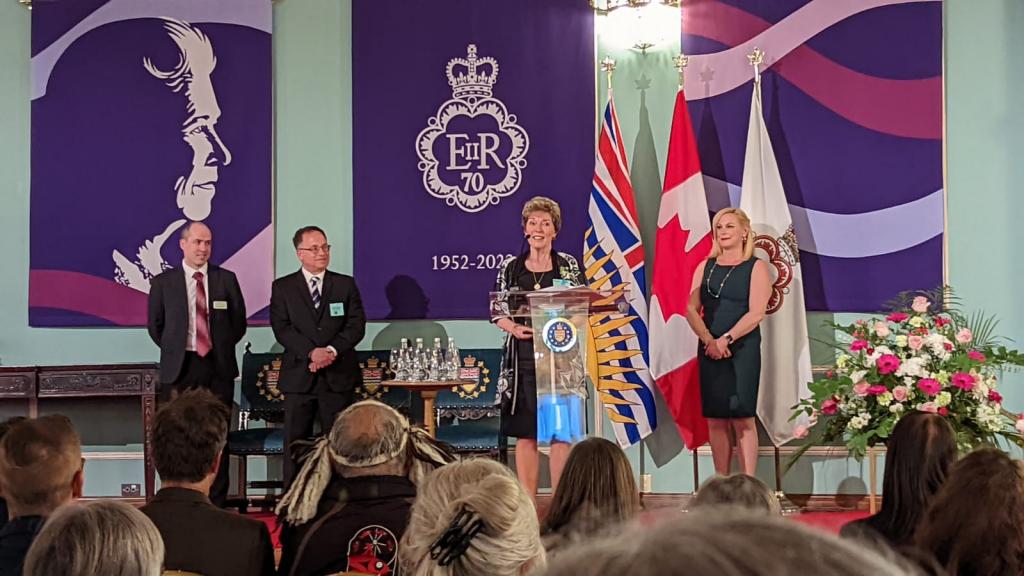 Mary-Anne Neal gives a speech upon receiving her award. 
Care, courage and creativity are critical values for the strengthening of civil society. All sustainable development goals are dependent upon the expansion of civil society – that is, our collaboration on what matters. Among these are Diversity, Equity, and Inclusion initiatives, Truth and Reconciliation, decolonization, quality education, democratization of education, peace, climate action, planetary health, and global citizenship. This year RRU acknowledged Emile de Rosenroll's efforts toward the building of a more innovative, diversified, inclusive and sustainable economy locally. Emile is the CEO of the South Island Prosperity Partnership and startup CEO of the Centre of Ocean Applied Sustainable Technologies (COAST), Pacific Canada's hub of the ocean innovation economy, and is helping set up the Indigenous Prosperity Center. Mary-Anne Neal is an independent educational consultant and Associate Faculty at RRU. She works with remote Indigenous communities in the N.W.T. and Northern Saskatchewan. Her journey into these communities she tells in her speech began when she was 19 years old. Mary-Anne's award-winning Dene Hero publication project has published four books over four years. She seeks to honour and celebrate the Dene heritage. Her latest publication, Under the Midnight Sun, describes her +50-year connection with the Dene of the Sahtu.
Sponsoring leaders in the community is a way of acknowledging this vital work and a way of giving back (Krause, quoted in LV).
Sources:
Emile de Rosenroll's LV FB Clip: https://www.facebook.com/leadershipvictoria/videos/5251434221572143
Leadership Victoria. Do you invest in what matters? https://www.facebook.com/leadershipvictoria/photos/a.316437695689/10159722979740690/