Resilience and YOU: Episode 5
Featured
Share online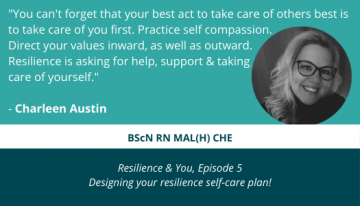 Designing your resilience self-care plan!
How do we say yes to self-care during a pandemic? Find out in this week's resilience conversation. I had the pleasure of talking to my special guest Charleen Austin. This is your opportunity to hear from a health leader who had first hand experience in the healthcare system as a patient during COVID. From self reflection, values assessment, practicing self compassion, Charleen shares her strategies for self care and leading from a base of values to honour humanity, compassion and love. Be sure to listen in to learn more.
As a health leader and human who is called to be in service to others, Charleen shares about a free resource for all Canadians. Wellness Together, is 24/7 Mental Health & Substance Abuse Support. Explore how this tool can be in service to you and your loved ones. We are reminded by Charleen resilience is asking for help, asking for support & taking care of ourselves. You are not alone.
Outside of Canada? What might a google search find for you in your part of the world that could support your wellness? Or what resource have you found, that more should know about? Feel free to share!
Tune in weekly at 1pm EST/10am PST for more rich conversations to support you and your resilience.