Resilience and YOU: Episode 4
Featured
Share online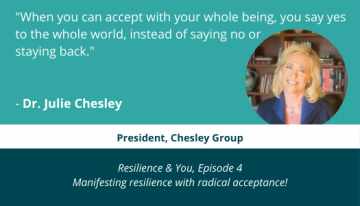 Manifesting resilience with radical acceptance!
@Dr. Julie Chesley was my special guest this week. From a 20 year career in the military, working in leadership roles in academia, to running her own firm, Dr. Chesley has accomplished a lot. However, the story of her family and her advocacy for mental health for us all through radical acceptance struck a deep chord. The four assumptions that are a focus of the non-profit association that she sits on the board of offer a key message for us all. It all starts with assume the most benign interpretation possible. Listen in to learn more - Episode 4: Manifesting resilience with radical acceptance! 
I invite you to connect with Dr. Chesley on Linkedin to continue the conversation on radical acceptance and the ripple effect it has as you move through your unique change. And join me this Thursday April 1, for my virtual book launch of Change Happens and hear how the tools in this book will help you create more successful change efforts that truly leverage the value of the human dimension.
Tune in weekly at 1pm EST/10am PST for more rich conversations to support you and your resilience.