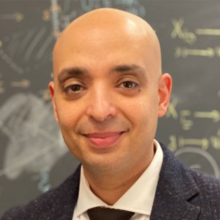 Fahmy's research interests include Energy Economics and Finance, Applied Econometrics, and Climate Finance and Economics. His research agenda focuses on modelling the regime switching behavior of clean energy assets, assessing the rewards of green investments, quantifying the impact of climate risks on financial markets, and measuring investor climate sentiment.
Fahmy's work has been published in top tier peer-reviewed academic journals in business, economics, and statistics such as Energy Economics, Applied Economics, and the Journal of Statistical Methods and Applications. His papers have been accepted and presented at top domestic and international economic and finance conferences. His work has also been featured in the local media and other news outlets.
Experience
Fahmy has taught courses in economics, financial econometrics, corporate finance, business-statistics, and time series analysis at various academic institutions in Canada. He has taught and supervised student research at various MBA and PhD programs. In addition to his academic appointments, Fahmy previously worked as a senior economist at HLB Makary Consulting and at the American Chamber of Commerce.
He is also an active member of the Canadian Sustainable Finance Network
Education
2012
Ph.D. in Economics
Concordia University
2006
MA in Economics
American University