That's snow biz: How gender bias affects snow sports instructors
Topics
Featured
Share online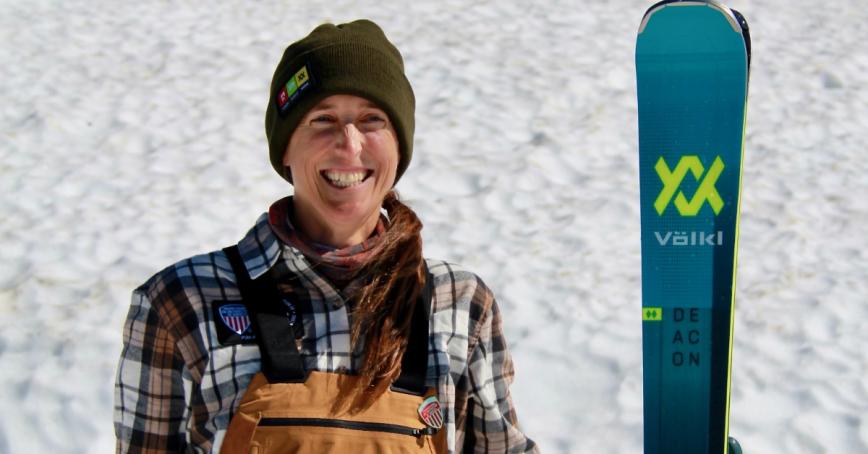 As a lifelong skier and an elite, national-level ski instructor in the US, Ann Schorling didn't have to look far for the subject of her thesis research — it was all over the cold, white mountains where she plies her trade.
A student in Royal Roads University's Master of Arts in Leadership program, the native of Pittsburgh, PA chose to examine gender equity in sport, particularly snow sports instruction and guiding in the US.
"I have a pretty significant role in the [snow sports] industry and — being a woman in that role and always in a significant minority — have slowly over the last number of years become aware of the systemic limitations in getting women into those positions," says Schorling, who grew up skiing at Colorado's Keystone Ski Resort and now calls Jackson Hole, in Wyoming, her home mountain.
"It was already something on my mind and kind of a question I've been asking about how do snow sports schools perform or operate, and thinking about it in my own school."
She explains that many ski/snowboard schools assign a new cohort of instructors at the start of each season to a variety of classes, from three- to four-year-old children to adults to private lessons. There's usually an even split between male-identified and female-identified instructors, but the female instructors typically end up teaching the classes with young children while the male instructors teach the older kids and adults.
This matters because more instructors who begin teaching older children and adults go on to achieve the highest level of certification, Level 3, than do those who start with younger kids, Schorling says.
"If you talk to any female-identified instructor, you have a 99 per cent chance that, if you ask her about examples of gender bias in the industry, she will say, 'How many examples do you want?'" she says.
"It's clear to most female-identified instructors what's going on and most of the men I've talked to are on board as well. So, if everybody's on board, how come nothing is changing?"
But knowing about bias and doing something about it are two different things, and she says, "I didn't just want to gather data, I wanted to generate change."
Her research at Big Sky Resort in Montana comprised three parts:
a survey to gather background information on prevalent challenges and stories of gender bias

a focus group for female-identified or non-binary instructors to elaborate on stories and build community

a "bonkers cocktail party" — an interactive event involving one-on-one discussions that was designed to "create an experience in which men had an opportunity to hear stories and experience some empathy for the experiences of the female-identified instructors, and then, from that, try to problem solve with everyone in the community"
Participants heard stories from others about inequitable work distribution, unfair judgment and an exclusive boys' club.
"Even [men and women] who identified as feminist… through the storytelling, had these moments of realization of the ways they had participated, without knowing it, in gender bias, which is incredibly common," Schorling says.
For instance, in lesson assignments, she notes, "Frequently the challenge given to a female instructor is emotional while the challenge given to a male instructor is physical. And that happens both on a supervisor-employee level but also in client bias, where clients will request a female- or male-identified instructors for a specific need."
One solution that came from the research at Big Sky was to write a script for sales staff faced with gendered requests so they can instead ask clients about the characteristics of the student to assign them to an appropriate instructor.
As well, if more female instructors are tied up with younger skiers, fewer of them are available for more senior assignments, including advanced lessons and lucrative private lessons, which affects their income.
"What I hope people look at are the very subtle ways we all play into bias and how these reproduce themselves over time and become dramatic effects," Schorling says, noting she's also hopeful her research will open eyes and effect change in her industry.
"We need to have everybody on board."