Sweet success: Royal Roads alum starts cookie company during pandemic
Topics
Featured
Share online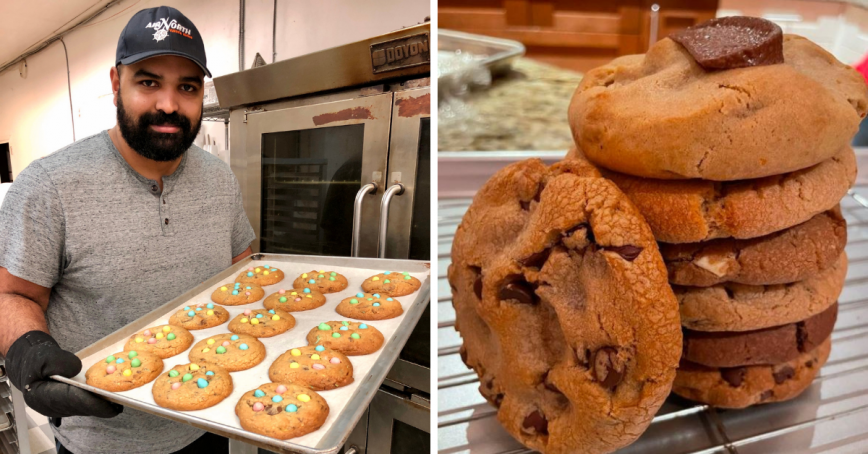 Tim Thakker never imagined he would be making and delivering homestyle, triple-chocolate cookies to eager customers waiting at their front doors, glasses of milk in hand, after graduating from Royal Roads' Bachelor of Commerce in Entrepreneurial Management.
But during the pandemic he discovered that perfecting the recipe for a successful business could start in his own kitchen.
Upon finishing his capstone project and graduating in early 2021, Thakker wasn't sure what to do with his degree, or where to start. So he started baking, first bread, then cookies.
"And as a result, my wife bought me a mixer," says Thakker.
He put it to good use, testing varieties and variations of cookies,including ones as thick as brownies with gooey chocolate and marshmallows.
"All kinds of craziness," adds Thakker, chuckling. "I went down a rabbit hole."
Thakker had seen pictures of New York-style cookies on Instagram and decided to try and emulate them, but then landed on his own creation.
He had no intention of selling his cookies. At first, he just shared them with friends.
"It was just my version of the best cookie I could make or that I would like to eat."
His friends enjoyed them.
One asked, "'Why don't you actually make this a business?'"
Building a business
Thakker and two friends started a group chat during the pandemic and would send each other images of food from around the world, and promising each other they'd visit some of those places together once COVID-19 health and safety regulations relaxed.
In the meantime, two of them decided to start the cookie business. They reached out to some social media influencers and, overnight, sold 18 boxes.
In February 2021, they founded the Vancouver Island Cookie Co.
They are now selling about 50 boxes a week. Boxes sell for $22 to $24, plus a $7 delivery fee, with plans to provide a portion of profits to local charities.
"We're a small-batch producer, so I think we're trending in the right direction," Thakker says.
Through trial and error, Thakker figured out the science of making cookies. Most cookies dry out after two or three days, he says, but Vancouver Island Cookies keep their moisture for up to five days.
"Most cookies, you want to heat them up before you eat them. But sometimes you just don't want to wait that long. I'm that kind of guy," Thakker says. "If I see a cookie, I have to eat it now. And so this is what I landed upon – a cookie with a nice crunchy exterior, then the inside is just moist, softer and chewier, so you don't have to wait for the microwave to bing before you can eat your cookie. You can just grab a glass of milk and eat your cookie right away."
In all, it takes about 10 hours a week to make and deliver the cookies, which makes for a busy weekend for Thakker, who also works full-time for Canada Revenue Agency.
But the business is currently paying for itself. "It's kind of running on its own steam and my partner and I have decided to keep it going until the wheels fall off."
About community
Inspired by his RRU capstone project experience, Thakker wants to start a non-profit business in the caregiving sector, connecting seniors and students.
Part of Thakker's project examined the family dynamics for senior caregivers.
 "I think that is something that is lacking, in terms of the stress on caregivers, especially sandwich generation families, where adults have to take care of their children and elderly parents," he says. "My goal, eventually, is to apply that to my original goal of starting a kind of senior care business."
When reflecting on his RRU journey, Thakker says: "That was a really cool program to experience, especially during the height of the pandemic, to see the human side of a private or public enterprise as an opportunity for positive community impact as opposed to financial gain. So that's an aspect I try to model my business around, and then hopefully in the future to have a business that's providing a bigger community component."
Thakker is focused on baking and selling cookies for now, which he says is helping him understand how to build a business.
"My partner and I have really seen the potential of this, seeing the joy this brings, and how quickly it has developed," says Thakker. "And so, in terms of the business, we want to keep this going as long as Victoria will have us."