Students to compete in three-minute thesis competition
Topics
Featured
Share online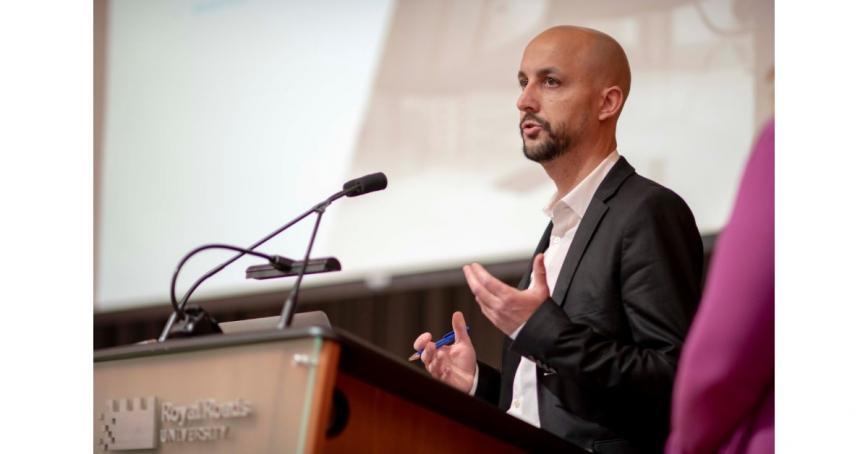 A typical university thesis can run between 40 and 240 pages. Think you could explain it in 180 seconds?
What about to an audience who has never even heard of your topic?
Three Royal Roads University master's students will accept the challenge at the Royal Roads Three Minute Thesis (3MT) competition March 9.
Presentations topics range from leadership at Canadian polytechnic institutions to ecoguardianship to prenatal care. The winner will receive a $2,000 award, in part to cover travel expenses to represent Royal Roads at the Western Regional competition at the University of Alberta in Edmonton April 21. Regional winners go on to compete at the National 3MT Virtual Competition held on June 1.
This year's competitors:
Kate Ellis, Master of Arts in Interdisciplinary Studies, presents "The Impact of Social Determinants and Marginalization on Prenatal Care in Saint John, New Brunswick"
Jacqueline Lambert, Master of Arts in Higher Education Administration and Leadership, presents "Mission, Vision, and Non-Academic Leadership at Canadian Polytechnic-Style Institutions"
Nick Townley, Master of Arts in Environmental Education and Communication, presents "One Hundred Days of Near-Solitude: A Journey of Place-Based Learning as the Ecoguardian at Race Rocks Ecological Reserve"
Royal Roads faculty members Jaigris Hodson, Chris Ling, George Veletsianos and Director of Research Services Deborah Zornes will judge the competition.

The Royal Roads 3MT competition will be broadcast from the Learning and Innovation Centre (LIC) 411 Monday, March 9 from 10 to 11 a.m. To watch in person or remotely via Bluejeans, contact Janine Hughes by Friday, March 6, 2020 to reserve space or to get log-in information.