Student podcast explores language about weather and climate
Topics
Featured
Share online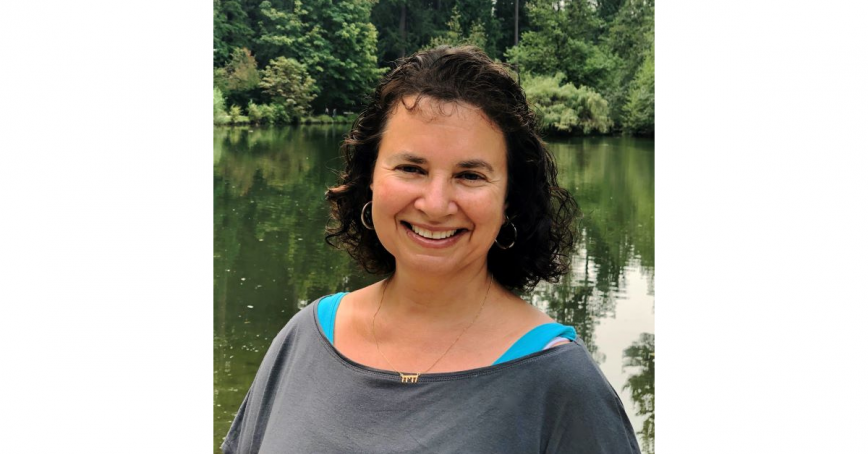 Climate change.
Climate crisis.
Words matter to Carla Shore, especially when it comes to climate and weather.
The two are different, which she explores in a four-part podcast series she produced for her Master of Arts in Environmental Education and Communication (MAEEC) research project at Royal Roads University this year.
"Canadians understand weather, how to cope, and what to expect, but have difficultly understanding climate," says Shore in the abstract for her master's research project.
Her podcast, Two Degrees Warmer, is available on her website, along with a literature review, and the list of 11 experts— in the fields of climate science, communications, and meteorology, from Canada to the U.S., Denmark, and Belgium that she interviewed for each episode.
"In our 21st Century society, we are very familiar with the language of weather. But has our familiarity with weather forecasting made it difficult for us to understand the seriousness of the climate crisis due to shared terminology between the two?," Shore says in her abstract.
"We know what it means if told it'll be two degrees warmer today – we can remove a layer of clothing. But two degrees warmer in climate terms means significant planetary chaos, much worse than just taking off a sweater."
"Perfect mix"
Shore discusses this with Dr. David Phillips, senior climatologist with Environment and Climate Change Canada, in the first episode, The same words in weather and climate.
"The public doesn't differentiate between weather and climate," Phillips says in the episode. "They see them interchangeably, they see them simultaneously. "
Most are engaged with the weather, which Phillips explains is experiential.
"Climate is academic. It's statistical. It's abstract. You can't see the climate when you look out the window."
Shore, a communications consultant in Vancouver, investigates the language of weather throughout her podcast series.
She's not sure if she'll produce more episodes.
"I'm still keen on this subject, and a lot of what I learned is really just applying communications principles to this subject, "she says.
But she wants to teach more.
Shore, who has a journalism degree from Carleton University, came to Royals Roads and the MAEEC program to earn the credentials to become a full-time post-secondary instructor, a role she's only performed part-time before. She started the program, which included a residency component, in summer 2019, while continuing to teach at Kwantlen Polytechnic University and University Canada West.
"I've been teaching all through this program and I've learned so much about instruction and education that really married what I knew about communication with education, and then you bring environmentalism into it, and it was a really perfect mix for me," says Shore.
"Language matters"
Shore chose a research project over a thesis because she wanted something hands-on, and settled on climate, having been involved with numerous environmental projects throughout her career in communications, including the Cohen Commission of Inquiry into the Decline of Sockeye Salmon in the Fraser River.
"Environmental education and communications is a lot of the work that I've been doing as a consultant," says Shore, but convincing people there's an urgent need to act on climate issues is a challenge.
"I don't think it's just language, but I think language matters. How we communicate, and who says all of those things matter," she adds.
"When our objective is to get people to get up and do something, to take action, whether we're talking to the general public, trying to get them to do things in their own minds, or to lobby regulators to enact policies, or whether we're actually talking to those legislators themselves, it still matters how you phrase what you say. And a lot of the experts I talked to made the same point: you have to find ways to say it that draws them in. You have to engage them."