She's been a pilot and scholar. Now, Noreen Newton has the write stuff
Topics
Featured
Share online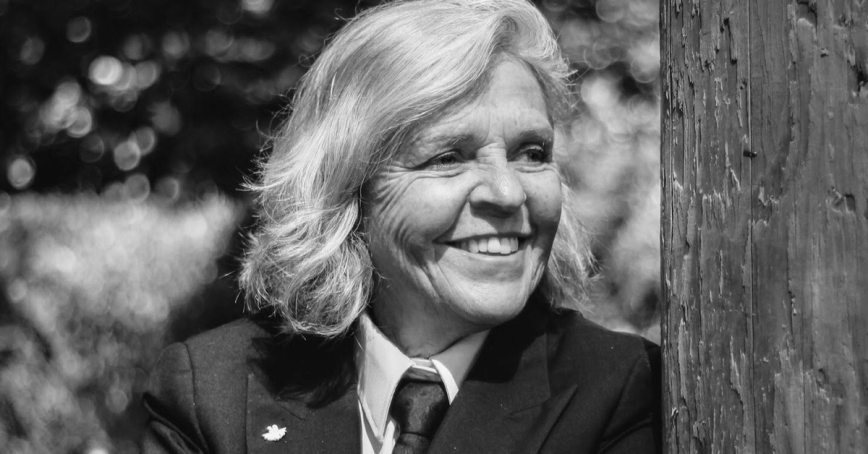 Noreen Newton has been an airline pilot for almost four decades and became an award-winning scholar at the age of 60. Now, as the Victoria, BC resident prepares to hang up her captain's wings, her next career is taking off.
A pilot with Jazz Aviation and a graduate of both the Bachelor and Master of Arts in Professional Communications programs at Royal Roads University, Newton was recently longlisted for the 2022 CBC Nonfiction Prize. She was among just 31 writers from across the country on that list.
Her 2,300-word story is called "24 Hours" and Newton says it's about a one-day period in her young life when she transitioned from adolescence to adulthood. This is how it begins:
"Get out of the bed, hands over your head." The police officers are at the foot of the bed, guns drawn. 
Dust particles float across the single sunbeam that escapes the gold floor-to-ceiling drapes, drawn tight against the morning light. Clothes are strewn haphazardly on the floor. The wall-to-wall shag carpet captures the lingering staleness of smoke and sex. A sliver of light illuminates the two bodies asleep in the bed. 
Startled into consciousness, I jump up. Naked, reaching for my clothes, I strive for some dignity. Struggling to make sense of their presence, I bend over and fold my body, first one leg, then the other, into the one-piece jumpsuit. Pulling the sleeves over my arms, I button up the top, covering my shame.
The story is an excerpt from her memoir-in-progress, where Newton recounts the aftermath of her assault. She explains that at the time of the incident, she was the 18-year-old "blackest sheep" amongst her seven siblings and had been living on the street.
"I found it really difficult [to recollect and write about] but, you know what, every time you write about it, you get some insight," she says.
Now, Newton is counting down the weeks to retirement. But the 18-year-old version of herself isn't far from her thoughts, nor is what flying ­— despite the challenges that come with working in a male-dominated industry — means to her.
"The sky was my church. I worshipped at the altar of this infinitive sky and wonderment. I got up in an airplane and thought, 'This is amazing. This is where I want to be.'
"But I carried that whole shame of how do you go from being a street urchin — who was valueless in our culture's, in our society's eyes — to a woman who wants to fly airplanes? And how do you take those lessons and move beyond those experiences?"
A lifelong learner and eternal student, Newton went back to school to upgrade her physics and math education before becoming a pilot, and continued taking courses while working in commercial aviation. At 50, she enrolled at Royal Roads, earning a BA in Professional Communication. Ten years later, she achieved a masters and wrote a thesis titled "Equal Space on the Flight Deck: Challenging the Myth of the Professional Pilot." The research involved speaking to other female pilots about their experiences in aviation and the paper earned her RRU's Michael Real Award, which recognizes a thesis or research study that demonstrates excellence of scholarship.
The next step on her educational journey is to explore her creative side.
"I don't know what's going to happen after I retire but I want to be a writer, I think. I want to stay home and write. I want six months of no hotels, no restaurants. Sleep in my own bed, eat my own food.
"I love the craft. That is what I'm learning," she says. "I wanted to create this life for myself where I have time to write," she says. "And I have great stories."
Noreen Newton on RRU, in her own words
Following her interview for this article, Newton wrote an email about her Royal Roads experience and its importance to her journey:
RRU holds itself up as life changing. When I first applied in 2008 to the BAPC program, I wrote a letter to the department head, Joshua Guilar, detailing why I believed I would be a successful candidate. I shared my experience as a pilot but, also, my journey as a woman and what I'd learned along the way. RRU valued my life experience enough to let me into the program.
Ten years later, I applied to the master's program. I met with the department head, Jennifer Walinga, and spoke of the problem I wanted to address through my research. RRU valued my experience enough to let me into the program.
And then the university acknowledged my thesis with an award, an incredibly affirming experience.
Along the way, I acquired communications skills and writing skills, and perhaps most importantly, learning skills.
So when I pressed "send" to enter the CBC Non-fiction Prize competition, my experience with RRU had already taught me to take risks. Unlike in the aviation industry, I was never told I did not belong. I was never told I was not good enough, even when I received feedback or grades that were not stellar, and I learned from the experience.
I was given the support to take risks, to fail and to learn through that failure. My experience at Royal Roads gave me confidence.
And that is life changing.
We always want to hear stories about the people, programs and places that are the Royal Roads experience. Share yours via the RRU Story Exchange  and it could be featured on our web site and social media.