RRU students to compete in Three Minute Thesis competition
Topics
Share online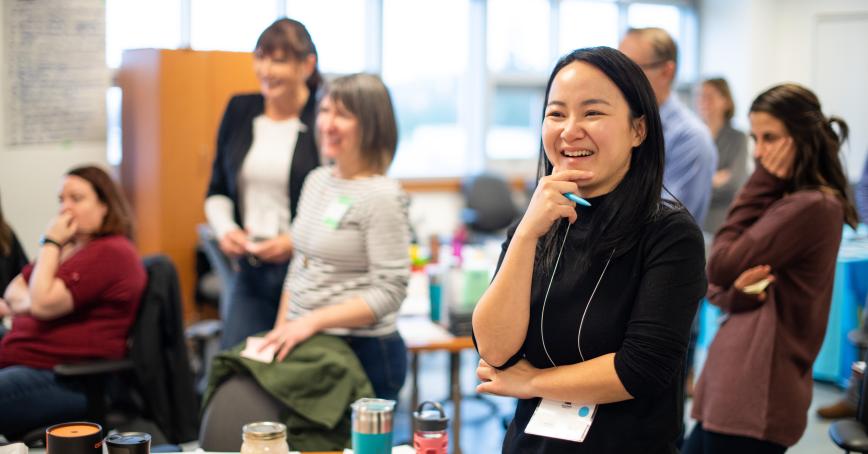 In just three minutes, you could order take out, make a cup of tea or practice a few quick sun salutations. But could you summarize an entire thesis paper?
Eight Royal Roads University master's and doctoral students will try to do just that at the Royal Roads Three Minute Thesis (3MT) competition March 9.
The 3MT Competition was developed by The University of Queensland in 2008 and now more than 900 universities from more than 85 countries worldwide now participate, including 45 from Canada. The aim of the competition is to cultivate students' academic, presentation, and research communication skills.
The winner will represent RRU at the western regional competition hosted by the University of Saskatchewan in early May. Regional winners go on to participate at the National 3MT Showcase at the 61st Annual Canadian Association for Graduate Studies Conference happening next fall.
This year's competitors are:
Dawna Atamanchuk, MA in Interdisciplinary Studies, presents "Navigating Through Ambiguity;"

Alli Boyd, MA in Professional Communication, presents "Canadian Representation and Authenticity in the Degrassi Series;"

Teri Forster, MA in Interdisciplinary Studies, presents "Creating an Appreciative Sustainability Vision for NHA;"

Madelyn Jones, MSc in Environment and Management, presents "Mapping the Potential for Kelp Growth in Nearshore Coastal Ecosystems in British Columbia;"

Joel Owen, MA in Tourism Management, presents "Constructing Strategies for Retaining Hospitality Workers;"

Rosemarie Perkin, MA in Leadership, presents "Harnessing the Power of Volunteer Motivation in a Growing Non-Profit;"

Heather Tomlinson, MA in Leadership, presents "Exploring Health Care Aides' Perspectives on Work Life in Long-Term Care;"

Monica Tsai, Doctor of Social Sciences, presents "An Exploration of how Augmented Intelligence can be used to support Leadership Development;"
RRU faculty members Dr. Siomonn Pulla, Dr. Carolin Rekar Munro, Dr. Eugene Thomlinson, and Dr. Sarah Wolfe will judge the competition.
The RRU 3MT Competition is hosted and organized by the Office of the Vice-President Academic and Provost, under the leadership of Theses and Dissertations Manager, Janine Hughes and Dr. Jo Axe, Professor, with the School of Education and Technology and Program Head, Master of Arts in Interdisciplinary Studies.
The RRU 3MT competition will be held virtually via Zoom on Thursday, March 9, 2023 from 9:30 a.m. to 11:00 a.m. PST. To watch remotely, contact Janine Hughes by Wednesday, March 8, 2023.
---
We always want to hear stories about the people, programs and places that are the Royal Roads experience. Share yours via the RRU Story Exchange and it could be featured on our website and social media.